Risks & opportunities. Ukraine, Turkey, the UN & Russia sign deal to unblock Ukrainian Grain exports
Full details
Authors & editors
Publisher
Milling & Grain
Year of publication
2022
Languages
Medium
Digital
Edition
1
Topics
Scope & content
By Suzana Hryhorenko, Executive Director, Seed Association of Ukraine

Since the beginning of the full-scale Russian invasion of Ukraine, the work of farmers has turned into a constant search for solutions to overcome new challenges. Ukrainian farmers completed the sowing campaign despite the danger, shelling, fuel shortages and logistical problems.

But this is only part of the job. There is still harvesting, storage, and export of the crop ahead. As for the latter, the situation has become critical. Due to the blocked ports, almost 25 million tonnes of grain could not be exported from the country, and the danger of the world food crisis became more acute than ever.

Therefore, the world community actively participated in solving this issue. On July 22, after lengthy negotiations, Ukraine, Turkey, the UN and Russia signed an agreement allowing the ports to be unblocked and Ukrainian grain to be exported. But the very next day, Russia struck the Odesa port. Accordingly, all previous agreements were 'on hold' since no one could guarantee the safety of exports.

Following these events, Monday August 1, 2022 saw the Sierra Leone-flagged vessel the Razoni leave the southern port of Odesa bound for Lebanon, laden with some 26,000 tonnes of corn....

Read more about Economic crisis and In memory of Oleksiy Vadaturskiy.

Pictures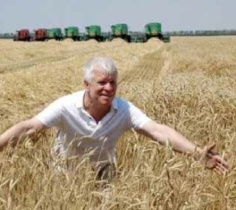 File attachments