Milling journals of the past. The Platt Flour Mills
Full details
Authors & editors
Publisher
Milling & Grain
Year of publication
2022
Languages
Medium
Digital
Edition
1
Topics
Scope & content
My attention was recently captured by an article on a mill in Kent in the Christmas 1899 edition of 'Milling'. It told the story of a mill built at Boro' Green in middle of the county, a region I used to know well 20 years ago, when I was advising the National Lottery on a UK£1million project to repair seven Kent windmills.

The mills were located near Wrotham Station, in the village of Platt on the Swanley and Maidstone section of the London, Chatham and Dover Railway. Wrotham itself stands at the foot of the North Downs, which boast the highest point on Kent at 770 feet above sea level. They were built in 1880 by a Mr Jull.

At that time the mill was equipped with six pairs of millstones…Read more.

Pictures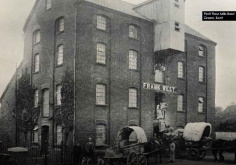 File attachments