Intelligent mills
Full details
Authors & editors
Publisher
Milling & Grain
Year of publication
2022
Languages
Medium
Digital
Edition
1
Topics

Cereal processes > Flour milling
Energy & power > Development of technology


Scope & content
Helping existing flour mills to utilise & benefit from emerging innovations

By Sid Jain, Henry Simon Milling, Australia

Traditionally, flour mills were smaller in size and had a large number of millers and workers, making it easy to make adjustments and ensure the mill was running at optimum efficiency. Most mills are now operating at higher throughputs with fewer millers on site, resulting in a complicated system that must be adjusted to achieve optimal performance with only limited numbers of hands-on-deck.

Although every milling company strives for the highest extraction rate in their production, maintaining the mills in a balanced and efficient state for an extended period of time is tough to achieve. It is inevitable for us to step into this new era of milling with thousands of sensors and artificial intelligence. Even with these advancements, nothing can replace the necessity for an experienced miller who knows his mill, its flow, and the machinery like the back of his hand.

New mills with enhanced technology that allows for immense transparency are continuously emerging, but how can older mills utilise and benefit from these new innovations? What technologies can be applied in these factories to help millers get high extraction rates while minimising downtime?

Read more about:
An important part of a miller's job
What is intelligent milling?
An intelligent milling system
Efficient, balanced & optimum

Diagrams of Milling process, Easy mount to existing spouts, Visualization of flour milling and Optimal operation and production loss reduction.

Pictures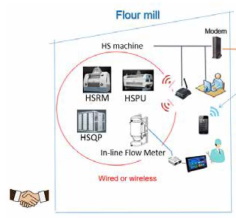 File attachments