Milling journals of the past. Messrs. Cannon and Gaze's Mills Erith, Kent
Full details
Authors & editors
Publisher
Milling & Grain
Year of publication
2018
Languages
Medium
Digital
Edition
1
Topics
Scope & content
The election of Mr Stephen Cannon as President of the National Association of British and Irish Millers in 1903 occasioned two extensive articles in Milling that year: A biography on April 18 and a description of his Erith mills on June 6. The mills were visited as part of the nabim annual meeting that year.

The account of the visit opened, "On arriving at Erith, these mills were easy to find, because they formed an important object in the line of sight, riverwards, as we alighted from the train. They come within the category of port mills, for they are on the banks of the Thames and have berths for 10, 250-ton barges alongside."

The Cannon family at Erith Mills had been millers in Kent for nearly 150 years, going back to the 1750s. When the roller mill system started to come into vogue in the 1860s, Mr Stephen Cannon was one of the largest owners of millstone flour mills in Kent…Read more.

Pictures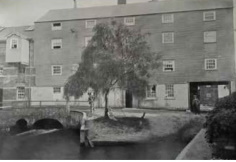 File attachments