The Rex Wailes Collection. Windmills of Nantucket, USA 2
Full details
Authors & editors
Publisher
Milling & Grain
Year of publication
2022
Languages
Medium
Digital
Edition
1
Topics
Scope & content

The following article is taken from a typescript in the Rex Wailes collection.

"One does not usually associate windmills with mountainous Wales, nevertheless, the Island of Anglesey at one time must have equalled East Anglia in the number of windmills per square mile which it possessed. A recent tour in Anglesey disclosed no less than 35 in this island which is only about 22 miles long from North to South and 28 miles long from East to West, of these however 25 are roofless shells.

All these mills are very similar to one another in outward appearance…Read more.

Pictures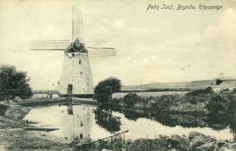 File attachments