New crop trials promises a viable maize alternative
Full details
Authors & editors
Publisher
Milling & Grain
Year of publication
2022
Languages
Medium
Digital
Edition
1
Topics
Scope & content
Early trials are underway ahead of a major UK-wide agronomy trial of a low-input, high-output perennial crop that promises to replace maize, with the aim of solving many of the problems associated with cropping rotation.

Trials in Kent, north Lincolnshire and South Wales will test the performance of Sunergy, whose Latin name is Silphium perfoliatum. Also known as compass or cup plant, it is a member of the Asteraceae family, has a 10–15-year life span, and once established is resilient, reliable, and unaffected by major pests or diseases, whilst also offering significant environmental and financial benefits.

Sunergy has a wide range of end uses, including as an anaerobic digestion (AD) fuel, ruminant feed, and even as a human food source. It has a complex root structure which acts as a carbon sink while improving soil health, as well as offering an excellent nectar source for pollinators.

Read more about Offsetting carbon emissions and the 'Holy Grail' of modern farming.

Pictures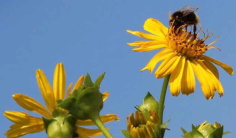 File attachments