Milling journals of the past. Aktie Bolaget Majornas Anghageri Robinson's Remodel Swedish Rye and Wheat Mill 1
Full details
Authors & editors
Publisher
Milling & Grain
Year of publication
2022
Languages
Medium
Digital
Edition
1
Topics

Wind & watermills by Region > Other Europe (not GB) > Nordic & Baltic countries
Cereal processes > Flour milling > Commercial millers


Scope & content
On the river Gota, about three miles inland from the Kattegat sea, stands Gothenburg, which next to Stockholm is the largest and most important town in Sweden.

Now the largest port in Scandinavia, a January 1950 article in "The Miller" mentioned that the freeport had a population of nearly 300,000 people who lived in the residential area on the south bank of the river and worked in the industrial section to the north.

Gothenburg has a special advantage for shipping in that the free central harbour is rarely obstructed by ice, a frequent setback in Northern countries. Until the Second World War, all buildings were of wooden construction, but as fires had become so common, they were gradually rebuilt in more durable materials, with the result that by 1950 "the town presents an extremely modern and attractive appearance"…Read more.

Pictures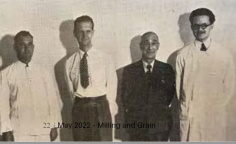 File attachments