Milling journals of the past. Daren Mills Dartford, Kent
Full details
Authors & editors
Publisher
Milling & Grain
Year of publication
2018
Languages
Medium
Digital
Edition
1
Topics

Wind & watermills > England > Kent
Cereal processes > Flour milling > Commercial millers


Scope & content
According to The Miller (November 3, 1913) the Daren Mills in Dartford were purchased a number of years previously by Mr SK Keyes, and fitted up with the most modern milling machinery of the day.

The mills were close to Dartford Railway Station and on the navigable River Darent some two miles above where it joins the River Thames.

Described as "that great water highway to the metropolis and so occupying a most advantageous position, being able to obtain their supplies of foreign and Colonial wheat by barges direct from the London docks".

In 1909, the business had been registered as a private company when Mr Hubert Keyes, brother of the head of the firm, became a director. His eldest son, Captain Reginald Keyes who in his spare time, out of business hours, was a captain of the Queen's Own Royal West Kent Regiment, assisted Mr SK Keyes, who was then a Governing Director, in active management….Read more.

Pictures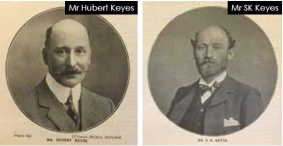 File attachments