Milling journals of the past. Molino Rio de la Plata Roller Mill (Simon System) A striking instance of rapid mill building in 1902
Full details
Authors & editors
Publisher
Milling & Grain
Year of publication
2022
Languages
Medium
Digital
Edition
1
Topics

Cereal processes > Flour milling > Commercial millers
Wind & watermills by Region > Rest of the World (not Europe) > Latin America


Scope & content
On August 23 of the year 1902 MILLING, the ancestor of Milling & Grain, published two illustrations of the Molino Rio de la Plata roller mill. These illustrations showed the start of the building of the mill which, when completed, would be the largest flour mill in Argentina (then known as the Argentine in Britain). Situated on the River Plate, it had excellent access to the river.

The illustrations in subsequent issues of MILLING recorded the extraordinary rapidity of the work. The first photograph taken on April 10 showed the site prepared with the foundations laid, and the photograph taken on July 5, illustrated the progress being made by the enormous number of builders, masons, carpenters and other workmen employed. The sequence of illustrations was published at almost monthly intervals until the middle of 1903…Read more.

Pictures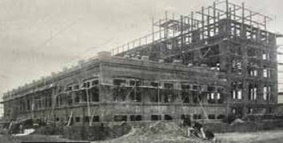 File attachments