Cereal revolution
Full details
Authors & editors
Publisher
Milling & Grain
Year of publication
2018
Languages
Medium
Digital
Edition
1
Topics
Scope & content
Agrasys is a spin-off of the Consejo Superior de Investigaciones Científicas (CSIC), located in Barcelona, and founded in 2005 by a group of scientists from the Institute of Sustainable Agriculture of Córdoba (IAS-CSIC) and professionals from the Agri-food sector.

Agrasys is focused on promoting Tritordeum, a Mediterranean cereal – the son of durum wheat (Triticum durum) and a wild barley (Hordeum chilense) – with real benefits for the environment, farmers and consumers.

The fact that Tritordeum makes efficient use of water and has a good resistance to some diseases makes Tritordeum a sustainable cereal with a lower environmental impact.

This new cereal allows the elaboration of a wide range of products such as flour, bread, biscuits, pasta, pizza or even beer…Read more.


Pictures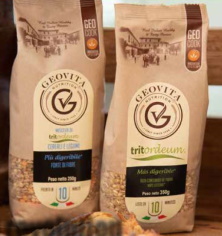 File attachments