Virtual Mill solving real-world training issues
Full details
Authors & editors
Publisher
Milling & Grain
Year of publication
2018
Languages
Medium
Digital
Edition
1
Topics

People and communities > Education and Training
Economics & commerce > Trade and industry associations


Scope & content
By Vaughn Entwistle, Features Editor, Milling & Grain Magazine

The national association of British and Irish Millers (nabim) is the trade association that represents UK flour millers. nabim membership encompasses virtually all the commercial flour milling businesses in the UK. Associate members, businesses such as plant breeders, grain merchants, pest control companies, engineers or packaging manufacturers linked with the industry also play an important part in the Association. UK flour millers are proud of the role they play in society, delivering efficiently produced, high quality safe food for the consumer.

Nabim is committed to the development of the people within the flour milling industry and places a high priority on education and training. For over 100 years nabim has been responsible for industry training.

Nabim's latest training tool, the Virtual Mill, has been in development over the last two years. As the name implies, this training tool exploits virtual reality technology. By donning a virtual reality headset, milling students enter a three-dimensional simulation of a flour mill where they can wander about the facility, visit various floors that simulate the various processing rooms of an actual flour mill, and interact with the machinery…Read more.

Pictures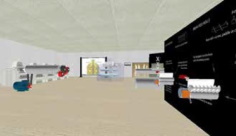 File attachments