Flexibility teamed with balanced & economical nutrition
Full details
Authors & editors
Publisher
Milling & Grain
Year of publication
2022
Languages
Medium
Digital
Note: Copyright restrictions mean the attachment below only contains part of the publication. The full document is available for inspection at the Mills Archive Research and Education Centre.
Edition
1
Topics
Scope & content
Feed miller and manufacturer working in tandem, increasing capacity & reducing energy consumption

By Özlem Tarım Ürünleri AŞ, Turkey

Ozlem Tarım Ürünleri A.Ş. (Özlem Agricultural Products Corporation) started its activities in 1980 with its first feed mill established in Salihli- Manisa, Turkey. When it launched over 30 years ago, it was the very first privately owned feed company in the entire region.

Following its motto 'Balanced and Economic Nutrition', Özlem Agriculture Company produces feeds under its Özlem Feed and Pakiş Feed brand names, as well as supplying feed additives and performance enhancers under its Verimix brand. Although the company always puts poultry feed production first.

With an hourly capacity of 50 tonnes, the compound feed mill can produce feed for both ruminant and poultry, established by Yemmak process engineering solutions located in Söğütlü / Adapazarı, in the Marmara Region in Turkey…Read more.

Pictures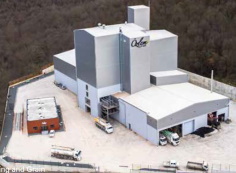 File attachments