Schafler's Kornkraft shows its strength
Full details
Authors & editors
Publisher
Milling & Grain
Year of publication
2022
Languages
Medium
Digital
Edition
1
Topics

Cereal processes > Flour milling > Commercial millers
Energy & power > Development of technology


Scope & content
Efficiency in every step of production

Schafler Mühle GmbH in Gersdorf an der Feistritz is a modern speciality mill. Located a few kilometers east of Graz, the capital of the Austrian state of Styria, it is the biggest spelt processor in the country. To increase product safety, Schafler has become the first mill in Europe to put Bühler's small plansifter, MPAU-1, into operation.


The mill in Gersdorf was mentioned for the first time in a document from 1507. Today, the mill continues the tradition of using renewable energy for production.


Originally, the mill was powered by a water wheel. Today, the company has its own hydroelectric power plant and a large photovoltaic system that together supply up to 50 percent of the electric current for the modern mill.


The solar power installation will be expanded in the coming years, further increasing the share of renewable energy that powers the mill…Read more.

Pictures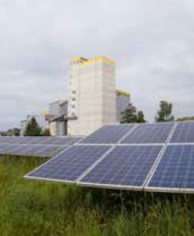 File attachments