The power of an image: The banner of 'The Grain Millers of Glasgow' and its historical context
Full details
Authors & editors
Publisher
Milling & Grain
Year of publication
2018
Languages
Medium
Digital
Edition
1
Topics
Scope & content
By Mildred Cookson and Daniel Sanchez-Villavicencio

Often the most unexpected encounters can result in an investigation that leads to a fruitful exchange of information. Such is the case of the two authors of this feature, an expert in grain milling and a researcher in painted banners. After discovering interesting, yet initially unrelated historical information, they found common ground due to a particular image. The resulting collaborative study helped to understand the meaning of a 19th Century banner from Glasgow.

The banner in question, The Grain Millers of Glasgow is a painted trade union banner held by Glasgow Museum's Collections. As with many other trade unions in Great Britain, the records of this particular society were lost after mergers and amalgamations over the years.

There seem to be no records explaining why the banner was created. So we have investigated the purpose, meaning and date of making such a socially significant object. Much could be deduced from the images portrayed, the same distinctive imagery that powered the Trade Union movement in the UK...Read more.
Pictures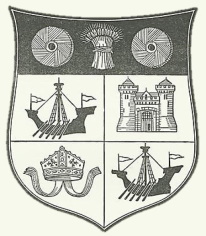 File attachments