Milling journals of the past. In praise of Scotch Oatmeal
Full details
Authors & editors
Publisher
Milling & Grain
Year of publication
2018
Languages
Medium
Digital
Edition
1
Topics
Scope & content
"The virtues of Scotch oatmeal have been praised by both poet and historian, but most of all by the British public, making it part of their daily food as porridge for breakfast".

These words of praise featured in a 1902 issue of "Milling", the predecessor of this magazine. At that time all the leading hotels in Scotland erved oatmeal porridge as a favourite food because "it is easily digested and supplies more strength-giving elements than any other cereal". It also contained more silica than any other cereal food.

In 1902 there were several oat-growing districts in Scotland. Of these, Aberdeenshire grew one-fifth of the whole oat crop because of its soil and its climate. The soil in Aberdeenshire is practically all stony; Aberdeen was also known as the "Granite City" and sometimes the "Silver City by the Sea"... Read more.
Pictures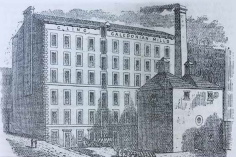 File attachments