CNC fluting machines
Full details
Authors & editors
Publisher
Milling & Grain
Year of publication
2018
Languages
Medium
Digital
Edition
1
Topics
Scope & content
By Mr Ömer Yeğin, Yenar, Turkey

Yenar is a company with 25 years' experience. Producing 22,000 rolls per year in various sizes led to Yenar becoming one of the world's largest roller mill manufacturers today. Yenar exports its products to more than 75 countries worldwide, just in 2018 alone. Yenar has combined its experiences and power in roll manufacturing to produce three different sizes of fully-automatic CNC roll fluting and grinding machines and a sand blasting machine for smooth rolls for the food sector.

Yenar is a world-class manufacturer of roller mill rolls and has two types on offer; cracking rolls and smooth rolls. Cracking rolls are harder than smooth rolls, whereas the rolls used to convert the intermediate products into flour are called smooth rolls…Read more.

Pictures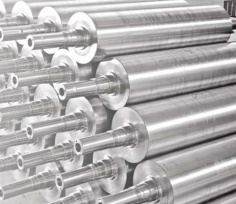 File attachments