The breaking & winnowing of cocoa beans
Full details
Authors & editors
Publisher
Milling & Grain
Year of publication
2022
Languages
Medium
Digital
Edition
1
Topics
Scope & content
Notes from a small-scale study conducted in Vietnam

By Huy-Bich Nguyen , Duy-Lam Pham & Van-Lanh Nguyen, Nong Lam University Ho Chi Minh city, Vietnam

Found growing in Central America over five thousand years ago, cocoa beans have been primarily used as main raw material for chocolate and other confectionery products in the world.

In fact, more than 90 percent of the worldwide cocoa beans produced are used for chocolate production. It is one of the major crops of several countries with a total crop of 4739 metric tonnes annually.

In Vietnam, according to the report of the Department of Crop Production, Ministry of Agriculture and Rural Development in 2015, the area for growing cocoa is around 22,300 ha, with the two largest growing areas found in the Mekong River Delta and the Central Highlands.

This study found that breaking and winnowing are two steps in cocoa bean processing that if conducted properly, will lead to an increase in the economic efficiency of the process and the quality of nibs produced...Read more.

Pictures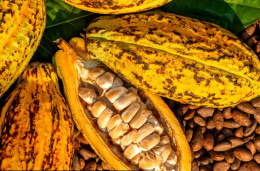 File attachments