Milling journals of the past. Robert Boby Ltd of Bury St Edmunds
Full details
Authors & editors
Publisher
Milling & Grain
Year of publication
2022
Languages
Medium
Digital
Edition
1
Topics
Scope & content
According to The Miller of 4 October 1909, most millers, particularly the traditional ones, knew the name of Robert Boby as the manufacturer of the mill machinery needed in the process of grain milling. His impressive premises were situated in Bury St Edmunds, the historic market town in county of Suffolk in the UK.

Sixty years earlier, Robert, the founder of the business, was an ordinary ironmonger. Living where he had ample opportunity to study the needs of a wheat-producing district, and his observations and inventive genius led him to patent and produce a machine for separating corn from chaff and dust.
The demand for this machine, which he constantly improved, was so great that in 1856 he gave up his retail business and devoted all his time to manufacture. He was hoping to become a worldwide name….Read more.
Pictures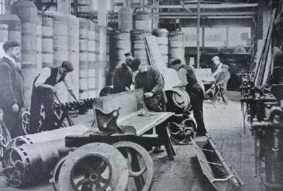 File attachments