Science & technology. The improvement of roller mills
Full details
Authors & editors
Publisher
Milling & Grain
Year of publication
2018
Languages
Medium
Digital
Edition
1
Topics
Scope & content
Rollers are the key components of roller mills. The manufacturing quality and precision of the rollers decides the flour quality and, therefore, the success of the mill as a whole.

China's roll production, after half a century of development, and the efforts of several generations, is constantly improving in terms of technical level and equipment. Successively the chill cast iron, the centrifugal casting process to produce high quality roll, has been upgraded repeatedly. Especially, since the turn of the new century, the main production factory has switched to electric furnaces and improved formulae, rapidly improving the quality of products.

Taixing Xiqia roll factory, founded in 1995, is the producer of flour mill rollers, feed roller precision parts, grease rolls and are proven malt crushing roller professional manufacturers. The formulation, production technology and technical performance of the product, in strict accordance with the national standard production manufacture and testing standards, uses double metal rollers with centrifugal casting cast iron....Read more.
Pictures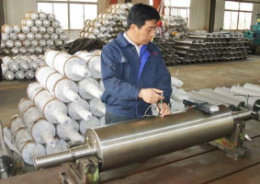 File attachments