Digital navigator: Mühlenchemie introduces flour optimisation by smartphone
Full details
Authors & editors
Publisher
Milling & Grain
Year of publication
2018
Languages
Medium
Digital
Edition
1
Topics

Cereal processes > Cereal and milling science
Economics & commerce > Computers and AI


Scope & content
The Mühlenchemie Navigator is the miller's periodic table: tried and tested, and unbeaten for estimating the effects of enzymes and flour improvers on the functional properties of flours.

Two posters, the "MC Navigator: Rheology" and the "MC Navigator: Baking", offer millers an up-to-date overview of possibilities for using the most important flour improvers. The experts in Ahrensburg collected empirical data for flour standardisation, which they summarised in compact form in their practical guide, the "Navigator"…. Read more.
Pictures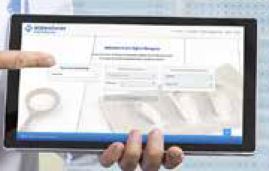 File attachments