New sensor gives farmers more accurate readings on plant health
Full details
Authors & editors
Publisher
Milling & Grain
Year of publication
2018
Languages
Medium
Digital
Edition
1
Topics
Scope & content
Assistant professor Jian Jin, from Purdue University's Department of Agricultural and Biological Engineering, has built an innovative handheld sensor that gives plant scientists and farmers a more precise way of measuring the health of crops while gathering up-to-the-minute data that state and federal officials and others will find valuable.

Jian Jin hopes his hyperspectral-imaging device will be used widely by plant scientists and farmers nationally and internationally. The device scans a plant for physiological features, such as moisture, nutrient and chlorophyll levels, as well as different chemical spraying effects and disease symptoms to determine whether it is healthy or under stress.

"My vision is this sensor will allow household farmers walking through a field to use a handheld device and a smartphone to get the same information available from very expensive phenotyping systems constructed by big companies and big universities in recent years," Jin said... Read more.

Pictures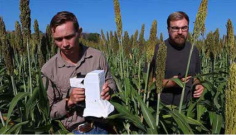 File attachments