Milling journals of the past. The Cleveland Anglo-Hungarian Steam Flour Mills, Stockton on Tees
Full details
Authors & editors
Publisher
Milling & Grain
Year of publication
2022
Languages
Medium
Digital
Edition
1
Topics

Cereal processes > Flour milling
Wind & watermills > England > Northumberland


Scope & content
During a committee meeting of the National Association of British and Irish Millers early in 1884, the then president Mr RH Appleton, of The Cleveland Steam Mill, suggested a convention (see The Miller, 7 July 1884). It was agreed and it proved to be the first of many to take place in future years around the country.

At the convention he passed on the presidency to Mr Soundy, of Reading Abbey Mills.

Mr Appleton's mill, situated in the large market town in County Durham, sat on the banks of the River Tees. As can be seen from the engraving, it was a large handsome building, built so that grain could be unloaded from barges straight into the mill. As Stockton on Tees was also known as a port town, the site was convenient both for grain deliveries and the shipping of flour….Read more.

Pictures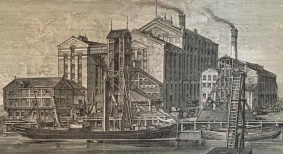 File attachments