Digital agriculture. The power of ZEMA
Full details
Authors & editors
Publisher
Milling & Grain
Year of publication
2019
Languages
Medium
Digital
Edition
1
Topics

Cereal processes > Handling, storage & transport
Economics & commerce > Computers and AI


Scope & content
By Rebecca Sherratt, Production editor, Milling and grain

The world is unpredictable, and nobody knows this better than farmers. With climate change drastically affecting the amount of rain we get yearly and temperatures soaring, crops are becoming a dangerous game, as farmers never know what will happen next.

ZE has a solution for this: ZEMA. The Vancouver-based data company, responsible for the data and software technologies for thousands of companies globally, has designed one comprehensive data analytics software that can keep farmers and traders up to date with the latest in yields, stocks and prices, as well as monitoring the success of their own crops and their expected income. With this technology, the future of farming needn't be so uncertain.

With technical services available to farmers and traders at the simple click of a button, the future of the agriculture industry can continue to prosper, despite the oncoming challenges that overpopulation and climate change pose... Read more.

Pictures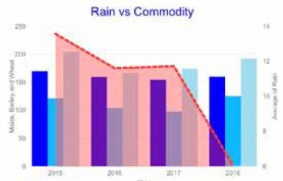 File attachments