The Alltech global feed survey
Full details
Authors & editors
Publisher
Milling & Grain
Year of publication
2019
Languages
Medium
Digital
Edition
1
Topics

Economics & commerce > Data & reviews
Cereal processes > Animal feed milling


Scope & content
The 2019 Alltech global feed survey shows changes in economic growth, changing production l
evels and changes within industries while identify new trends in the 144 countries surveyed.

Some quick facts from the survey:

The top eight countries produce 55 percent of the world's feed production

Vietnam saw an increase of nearly one million metric tons of aquaculture feed, contributing to the estimated six percent growth of the Asia-Pacific region's aquaculture feed production in 2018

Africa's feed production grew the most of any region at five percent. Expected to have one of the fastest-growing populations, how will this region farm in the future? Will it embrace conventional farming or leapfrog other methods and embrace Agriculture 4.0?

The European Union (EU) countries contribute to more than 50 percent of all major species feed production in Europe (with the exception of aquafeed)

Insect protein is working its way into aquaculture feed production…Read more.

Pictures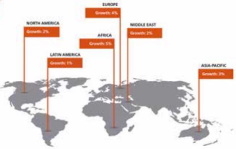 File attachments