Milling journals of the past. British engineering firms: The works of ER & F Turner, including the carter roller system in the course of manufacture at St Peter's & Grey Friars Works, Ipswich - Part one
Full details
Authors & editors
Publisher
Milling & Grain
Year of publication
2019
Languages
Medium
Digital
Edition
1
Topics
Scope & content
A series of articles in The Miller and Milling, in the 1880s and 1890s, on the British engineering firm ER & F Turner have attracted my attention. Over a couple of decades, reporters made various visits to their works and to mills where they were installing machinery. They had established a productive relationship with J Harrison Carter of 82 Mark Lane, London and manufactured roller mills and other machines used in his system of flour milling.

After a works visit, one reporter enthused (The Miller, June 1885, pp 321 - 326) that he had seen proof "that the great industry of grain flouring machinery was evident in the factory and that Mr Carter should be congratulated on having found co-workers to supply his customers with machinery of the best British make and material".

As Turners were among the oldest millwrights in England, it was not surprising that their works were producing a wealth of flour milling machinery…. Read more.

Pictures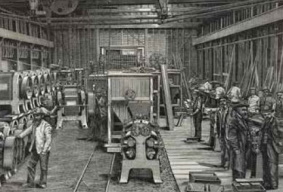 File attachments