Milling journals of the past. British engineering firms: The works of ER & F Turner, including the Carter roller system in the course of manufacture at St Peter's & Grey Friars Works, Ipswich - Part two
Full details
Authors & editors
Publisher
Milling & Grain
Year of publication
2019
Languages
Medium
Digital
Edition
1
Topics
Scope & content
Last month I introduced a series of articles in The Miller and Milling in the 1880s and 1890s that dealt with the British engineering firm ER & F Turner. The story, of course, continued as "ER & F Turner went on, over the following years, to manufacture roller mills of modern design to give years of efficient trouble-free service".

The next episode in their history, in 1902, was summarised in a headline at the time "The Irony of Fate: Too Much Water and Too Little". The opposing elements of fire and water caused catastrophes over which the successful firm had no control. An August issue of Milling reported a serious fire that struck just after midnight on the evening of the 16th of that month.

The fire at the Grey Friars works in Ipswich was stopped by a wooden partition that was full of wooden patterns. If the fire had reached the shed of the main woodworking shop the damage would have been enormous as it was full of wooden centrifugals, purifiers and reels, both finished or partly constructed.... Read more.

Pictures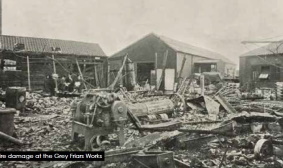 File attachments