I'Anson Brothers Ltd. New I'Anson mill gets the go ahead for UK£20m development project
Full details
Authors & editors
Publisher
Milling & Grain
Year of publication
2021
Languages
Medium
Digital
Edition
1
Topics

Cereal processes > Animal feed milling
Wind & watermills > England > Yorkshire & Humberside


Scope & content
I'Anson Brothers Ltd, one of the UK's leading, independent animal feed manufacturers, has taken the next step in the biggest investment in its 120-year history, signing contracts enabling work to begin on the construction of the company's new, UK£20m (US$26.8m) mill in the English town of Dalton New Bridge.

Found in the famous county of Yorkshire, the ultramodern facility has been designed to be as energy efficient as possible and will be one of the most technologically advanced feed mills in Europe.

The increased production capacity will complement the firm's existing plant at Masham and enable it to meet growing demand from existing customers, secure new orders, expand its export operations and continue to be a major supplier to the agriculture sector….Read more.

Pictures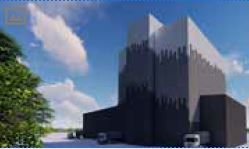 File attachments