The Rex Wailes Collection. Mill sketches by Anton van Anrooy
Full details
Authors & editors
Publisher
Milling & Grain
Year of publication
2021
Languages
Medium
Digital
Edition
1
Topics

Arts and culture
People and communities > Biographies & tributes


Scope & content
By Nathanael Hodge, The Mills Archive Trust

The Rex Wailes collection at the Mills Archive includes several sketches by the artist Anton van Anrooy. Mr Van Anrooy was a Dutch painter and illustrator; born in Zaltbommel, The Netherlands, he studied at the Hague School of Art, later moving to the UK and becoming a British citizen. He worked in oil, watercolour and pastel and specialised in portraits, landscapes and interiors. He died in 1949 and his work is held in several UK museums and art galleries. One sketch by van Anrooy of the millwright John Bryant was reproduced in the September issue of Milling and Grain; two others are reproduced here. They depict Ruffle's Mill, UK, and De Gooyer, Amsterdam….Read more.

Pictures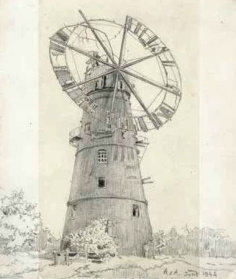 File attachments