Milling journals of the past. A successful country mill: Henry Smith & Sons' chamber house mill
Full details
Authors & editors
Publisher
Milling & Grain
Year of publication
2019
Languages
Medium
Digital
Edition
1
Topics

Cereal processes > Flour milling
Wind & watermills by Region > England > Hampshire & Isle of Wight


Scope & content
An article in The Miller of May 5th, 1902, describes a visit by a party to this mill, notable for it being run by a family of millers and prompting the claim that if one wants something done well, it should be done by one's self. The large Smith family provided many notable men in every department of the commercial and industrial enterprise; remarkable even in the milling trade which had a fair share of them.

Arriving at Reading by train from London, they were met by Mr Troke, a representative of Messrs JJ Armfield, milling engineers of Ringwood in Hampshire. He took the party on to the mill via another train to the small station at Thatcham, where the Chamber House Roller Mills was located on the River Kennet, set in a pretty spot.

Mr Henry Smith had been the tenant since 1882, when the mill ran with six pairs of millstones producing flour with a very good name. The mill did a splendid gristing trade and this appeared to have helped tide him over the long periods of trade depression and unprofitable flour milling…Read more.

Pictures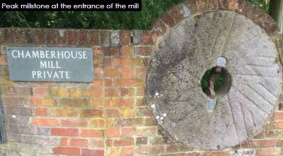 File attachments