Milling journals of the past. Messrs Thomas Robinson & Son Ltd of Rochdale
Full details
Authors & editors
Publisher
Milling & Grain
Year of publication
2019
Languages
Medium
Digital
Edition
1
Topics
Scope & content
An article in The Miller (February 2nd, 1903) reminded me to pay tribute to Robinson & Son as one of the milling pioneers who help transform milling from the use of millstones to the use of rollers.#

The firm was originally founded by Thomas Robinson, the grandfather of the members of the firm in 1903. He was a man with strong business instincts and started his business with a sawmill in Water Street, Rochdale, around 1840, at a time when very few wood working tools had been brought out.

His son, John Robinson, inherited his father's business ability and a strong inventive nature. He paid careful attention to the machines being used his father's sawmill, studying their points and defects. Very quickly he designed some greatly improved machines for wood working, some of which amounted to new inventions... Read more.

Pictures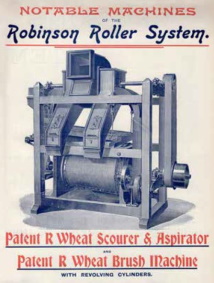 File attachments