Bringing a new dimension to FEED engineering
Full details
Authors & editors
Publisher
Milling & Grain
Year of publication
2019
Languages
Medium
Digital
Edition
1
Topics

Cereal processes > Animal feed milling
Repair & construction of mills > Engineers and millwrights


Scope & content
By Roger Gilbert, Publisher, Milling and Grain

Note to self: Stop working for myself but work for the market. Stop turning inwards and confront the market. Face the competition. Start from this point each day.

That's the philosophy of Nicola Reffo who goes on to say that successful companies in the Western world will have a positive and disproportionate impact on the livelihoods of those in poorer, transitional countries if they can "stay connected to the market."

"The challenge for us in the West is to stay attached to the train so to speak, even although major crises occur we must keep our optimism that things will be better in the future."

This does not sound like the approach of a major engineering company serving the animal feed industry, and which is one of just a handful of companies feed manufacturers rely upon for their pellet press rolls and dies. However, Nicola Reffo, a third-generation senior manager at La Meccanica in Cittadella, Italy is bringing another dimension to the running of the family business.

"Engineering has been traditional in our family, but I wanted to do something different so I went to university to study economics."…Read more.

Pictures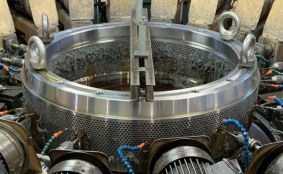 File attachments