Back to the future
Full details
Authors & editors
Publisher
Milling & Grain
Year of publication
2021
Languages
Medium
Digital
Edition
1
Topics
Scope & content
Steeped in milling history yet remaining highly competitive

By Roger Gilbert, Milling and Grain magazine

Milling everywhere has history. But no more so than in the UK where family owned-companies can trace their lineages back over generations - and no more so than the flour milling company of GR Wrights and Sons Limited, which is in its 155th year, and is in the hands of its sixth generation of family members and producing flour in North London at its Ponders Mill Site in Enfield.

In April this year the company moved into its new manufacturing facilities in Harlow, while retaining its historical mill site with limited production at Ponders End, outside London just inside the M25 motorway which circumnavigates the city.

Let's not feel that the move from Ponders End draws to a close to millers working on the Lea at Ponders End, which they have done so for nearly 1000 years The old mill has a vital short-run production obligation for specialist flour to continue to fill.

However, GR Wrights and Sons' new milling facility, built just 10 miles away in Harlow which is almost directly north of the historic mill but on the other side of the M25, is anything but historic.

In fact, quite the opposite – it's as modern as the old site is historic… Read more.

Pictures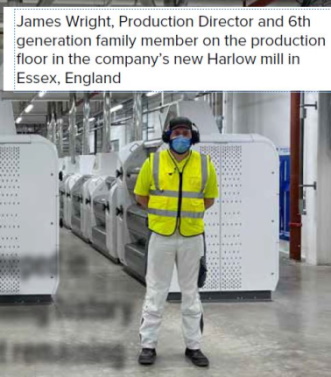 File attachments