Insect revolution. Healthy, sustainable, protein rich and delicious
Full details
Authors & editors
Publisher
Milling & Grain
Year of publication
2021
Languages
Medium
Digital
Edition
1
Topics

Cereal processes > Animal feed milling
Economics & commerce > Feeding the World


Scope & content
By Dr Verena Böschen & Dr Werner Sitzmann, Research Institute of Feed Technology of IFF, Braunschweig, Germany

Worldwide, the demand regarding alternative protein carriers is increasing due to the growing world population. In this context, insects and the resulting industrial developments are particularly noteworthy.

Globally, the development of a newly emerging branch of industry dealing with the fattening and rearing of insects as well as the development or automation of the associated machinery and plant engineering can be observed.

Legal framework, insects in general, the husbandry and harvesting of insects, how to process them into protein meals and lipids and the properties of these products. The programme also covered animal nutritional aspects, sustainability and economic viability…. Read more.

Pictures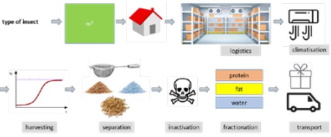 File attachments