A revolution in flour milling unfolds. Mill E3
Full details
Authors & editors
Publisher
Milling & Grain
Year of publication
2019
Languages
Medium
Digital
Edition
1
Topics
Scope & content
Completely new approach to the plant, processes and machinery of industrialised flourmills is about to take place with the launch at the Bühler Networking Days 2019 in Uzwil, Switzerland at the end of August.

Mill E3 will revolutionise the milling industry by setting new standards in the construction, equipping and energy required to operate the latest turnkey flour mill offered by the company. The new mill concept which is already being constructed in two locations with the first likely to come into production in mid- to late-2020 in the UK, offers mill operators tantalising advantages - a mill that occupies 30 percent less space, that takes 30 percent less time to build and require 10 percent less energy overall to operate. And there is one final advantage that is difficult to put into words.

"After the introduction of automation 40 years ago, Mill E3 is the next big step forward in milling," says Johannes Wick, CEO of Grains and Food at Bühler Group. The first customers will also benefit from Bühler block chain technology to trace grains and provide greater transparency and food safety…. Read more.

Pictures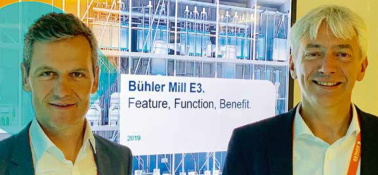 File attachments