Extrusion brings versatility to food industry
Full details
Authors & editors
Publisher
Milling & Grain
Year of publication
2019
Languages
Medium
Digital
Edition
1
Topics
Scope & content
By Keith Graham, Baker Perkins Business Development Manager, UK

It is scarcely surprising that the range of grain-based food products produced using the extrusion process continues to grow steadily. Extrusion is perhaps the most versatile process available to the food industry. It is capable of producing a wide range of end products from a variety of different ingredients and rapidly switching between them. It can replicate products made using other, less flexible, methods and the breadth of process options offers product developers plenty of scope for innovation.

Food with enhanced nutritional properties is a significant current growth area as diet awareness grows. High-quality snacks and ready-to-eat cereals form an ideal base for functional nutrition, and extrusion can be utilised to penetrate this expanding market for foods high in protein and fibre.

A key advantage of working with Baker Perkins is the Innovation Centre at Peterborough in the UK, with facilities to develop new products and processes, produce samples for test marketing, and conduct feasibility trials.

Companies from every part of the world find that thorough trials, often using their own raw materials, provide a reliable basis for trouble-free commissioning of a new plant or launch of a new line. The wide variety of process technologies available under one roof enables Baker Perkins to cross conventional process boundaries, and to offer a variety of process solutions for a single product… Read more.

Pictures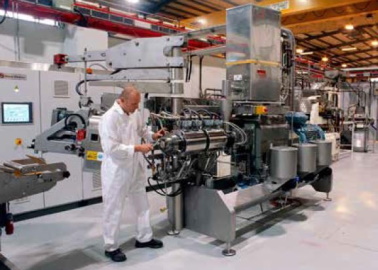 File attachments