Ocrim celebrates 74 years at its '2019 Wheat, Flour and …'
Full details
Authors & editors
Publisher
Milling & Grain
Year of publication
2020
Languages
Medium
Digital
Edition
1
Topics
Scope & content
By Roger Gilbert, Publisher, Milling and Grain.

Attending the Ocrim '2019 Wheat, Flour and …' Open Days we were welcomed by Sergio and Alberto Antolini, respectively President and CEO of Ocrim and "in our house" to celebrate the company's 74 years of evolution of the Ocrim brand, within its central offices and factory facilities in the heart of Cremona.

Sergio Antolini said, "Our production activities have been expanding with departments dedicated to the manufacture of machinery for storage of finished products. Another goal is the use of robotics and automation in the design, engineering and build of entire mills at our home."

He highlighted the company's titanium application project that has extended the life of rolls by three times, reflecting the uniqueness of Ocrim. Other developments include the BioStone Mill, a machine developed on ancient grinding techniques that can today produce forgotten flours and guarantee the conservation of their original organoleptic properties.

Not overlooked was a reference to the Ocrim Milling School, training students from many different countries in the art of flour and cereals milling and the company's support of the Nairobi children's charity to build shelters based on 'Augeo Legge Pinocchio'... Read more.

Pictures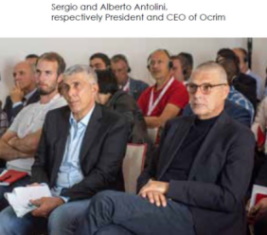 File attachments