New horizons for the king of beans
Full details
Authors & editors
Publisher
Milling & Grain
Year of publication
2021
Languages
Medium
Digital
Edition
1
Topics

Economics & commerce > Feeding the World
Cereal processes > Animal feed milling


Scope & content
James Cooper looks at the rise and rise of the humble soybean: Will there ever be enough soy to satisfy our endless hunger for meat?

The plant-based industry wants you to believe that crops like soy, corn and barley, are mostly being fed to livestock, but according to the United Nations FAO, grain makes up only 13 percent of global livestock feed.

The trouble is, soy's too good at what it does and so the world can't get enough of the stuff. The modern meat industry is now almost entirely dependent on it and yet still hungry for more.

Few of us are even aware of how much soy we eat - because we tend to consume it indirectly. Soy oil is used for cooking and can also be found in margarine, chocolate, ice cream or baked goods, as well as in cosmetics and soaps. It doesn't appear on the list of ingredients on a packet of pork chops for example. We may not eat large quantities of soy directly, if at all, but from the animals we eat or from the eggs or milk we consume.

David McNaughton of Soy UK has, for some years, been promoting the production of hard IP 'identity preserved', UK grown soy. Hard IP basically means non-GMO - read traceability and environmentally sound - as opposed to 'any origin', or untraceable. As consumer pressure builds on sustainability and in the face of rising soy prices, his planets may be starting to align.

So how can a subtropical plant survive, let alone thrive to be a profitable crop in the UK?


Pictures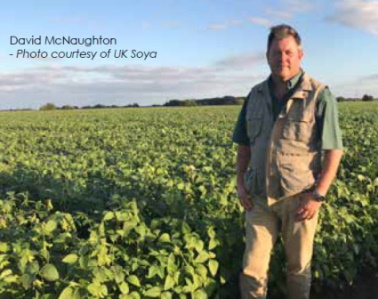 File attachments