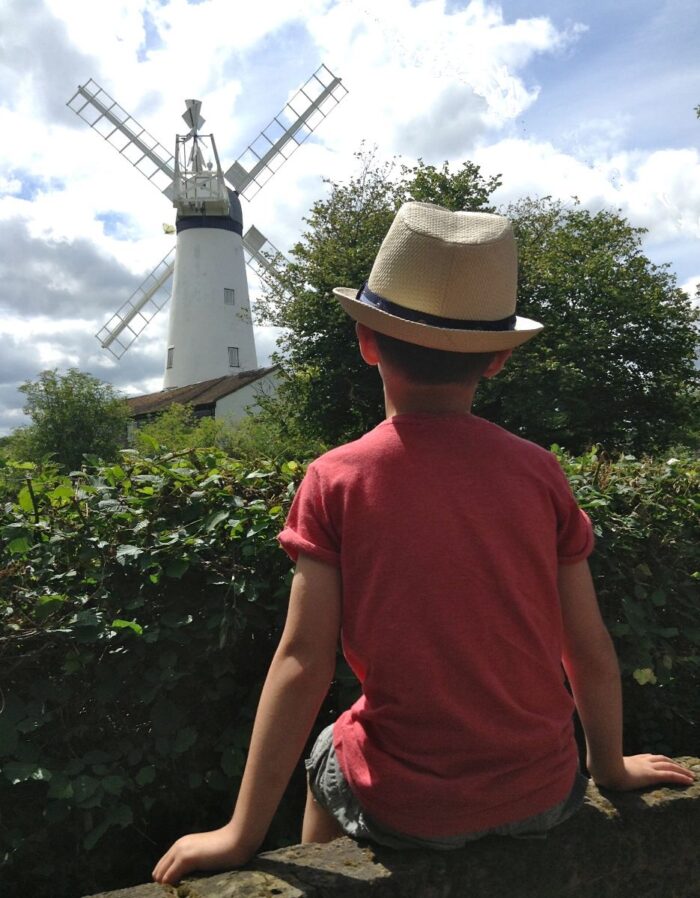 To match the determination of collectors in growing their collections, help us to maintain and grow our offsite storage in our airfield-turned-archive.
For most of the twentieth century, pilots from RAF Upper Heyford have streaked the skies above Oxfordshire. Now we trust its secure and climate-controlled hangars to house The Mills Archive's rapidly expanding collections…
… and propel them to new heights.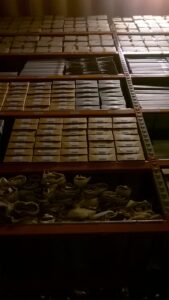 Inside our airfield-turned-archive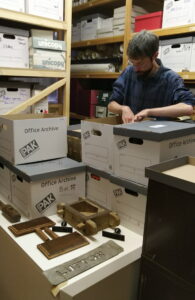 Archivist Nathanael preparing Alan Stoyel MBE's collection for Upper Heyford
For every one of these milling pioneers, for every new collection we receive, we must expand our airfield-turned-archive. To rise to this challenge and to match the ambition of the millers, millwrights and enthusiasts whose collections we care for, we rely on your continued generous support.
Leaving the ground
Officers of the fledgling Canadian Air Force at Upper Heyford. Unknown author, No 2 Squadron Canadian Air Force officers RAF Upper Heyford, marked as public domain, more details on Wikimedia Commons
Meeting the annually rising cost of taking on new collections is a prerequisite to upholding our Accredited Archive Service. This internationally recognised standard reflects the dedication of our Archivist, Nathanael, and our volunteers. We cannot let the need for space keep them grounded.
Your donations will allow us to unlock more of RAF Upper Heyford. The airfield went from being the first base of the Canadian Air Force in 1918 to entering Her Majesty's Secret Service as the set of the Bond film, Octopussy; from housing the bombers for NATO's nuclear weapons to entering service once again. After retiring as a U.S. Airforce base in 1994, this historic landmark now protects the collections of the Victoria and Albert Museum, Historic England and The Mills Archive.
Above and beyond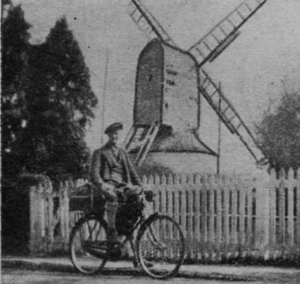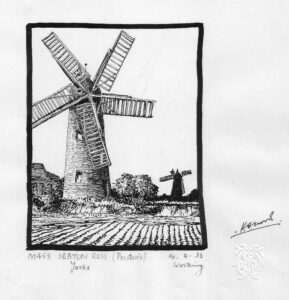 Karl Wood's pen and ink drawing of Preston's Mill, Seaton Ross
Karl Wood on his travels
From the 1920s to the 1950s, the artist, Karl Wood, travelled the length and breadth of the country (on a bicycle!) to draw all of the UK's 1650 windmills standing at the time. Many of his original windmill sketches have found their way to The Mills Archive.
On the theme of epic journeys, Emilie Gardner, a watermill enthusiast, travelled from Glasgow to Oxford in a horse-drawn caravan, campaigning for women's right to vote in 1908. Her travelling would later take her to extensively report on the state of UK watermills. Through her work, she convinced the Society for the Protection of Ancient Buildings to expand their Windmill Section into the Mills Section, including watermills, in 1946.
Karl and Emilie went above and beyond to increase our appreciation of mills; so too must we work across Oxfordshire and Berkshire to make their collections accessible.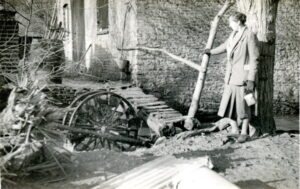 Emilie Gardner investigating Cleveley Mill, Enstone, Oxfordshire
Ever higher
As the former Chairman of the Mills Section and a watermill enthusiast, Alan Stoyel MBE continued Gardner's legacy. Starting in his teenage years, his collection rose to 234 boxes with around 1,700 books. The size of some of Alan's artefacts presents new challenges for The Archive, such as his large wooden mill patterns.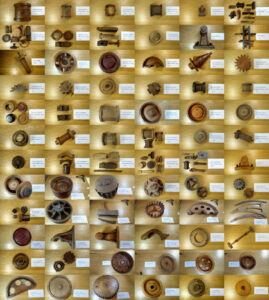 Alan Stoyel's wooden mill patterns…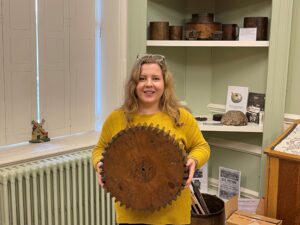 …to scale
Alan's contributions to preserving milling heritage should be met with equal vigour to expand for his collection. The cost of using these British Standard archival stores rose to approximately £2,800 in 2021 and will rise to at least £4,000 this year.
This is not to mention maintaining our momentum through the mundanity of packaging and transporting archival material. Without these components, collections would remain out of range of our visitors.
Clear skies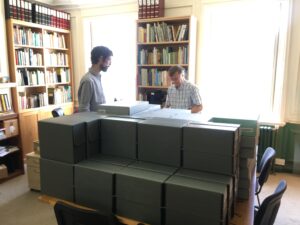 Walls of archival packaging — a familiar sight
Perfect weather for unboxing more boxes
Caring for over 3 million items, we cannot be daunted by these unending expenses and should look to inspiration from the milling pioneers.
They worked knowing full well that their ambitions could not be contained within one lifetime. Likewise, we must protect their work every day knowing that successive generations will continue to build upon our understanding of mills and milling.
Please help us to grow this knowledge, make it accessible and keep the skies above The Mills Archive clear for the next 20 years.
---
To go back to the appeal homepage and browse other ways you can help make our milling heritage accessible, click here.
Your generous donations give us the space to take in new collections and share their milling insights with the whole world.
Alternatively, you can find information about donating by cheque or bank transfer by clicking here.