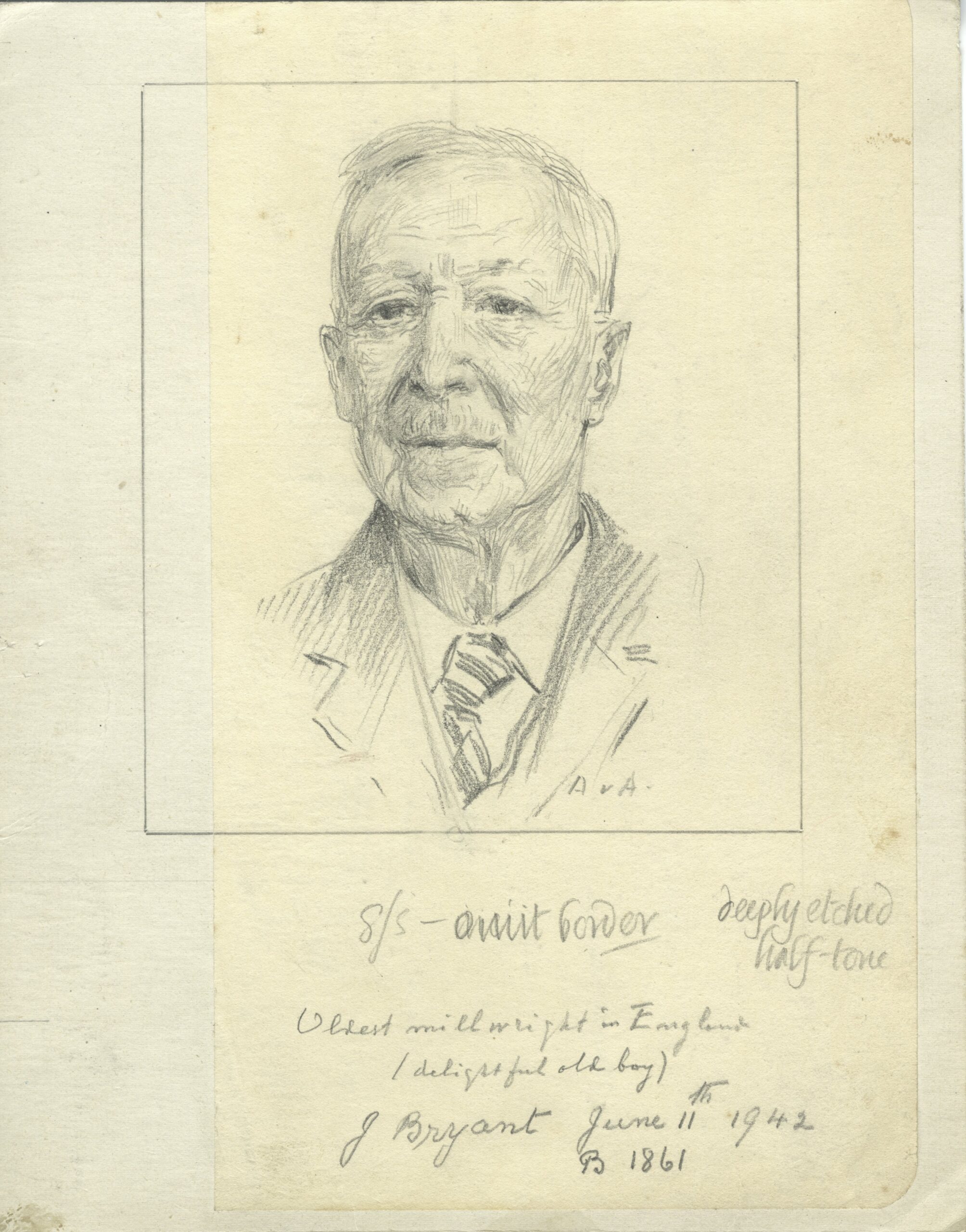 | | |
| --- | --- |
| | |
| In the Rex Wailes collection is a file of correspondence with John Bryant. Born 1861, Bryant was, in his own words, an "old type millwright". During his career the old mills fell into disuse due to the advent of roller milling – In 1881 we had a fine Exhibition at the Agricultural Hall London and it struck a Death Blow to us old Type Millwrights although we could hold our own against the best Engineers of the Country. | |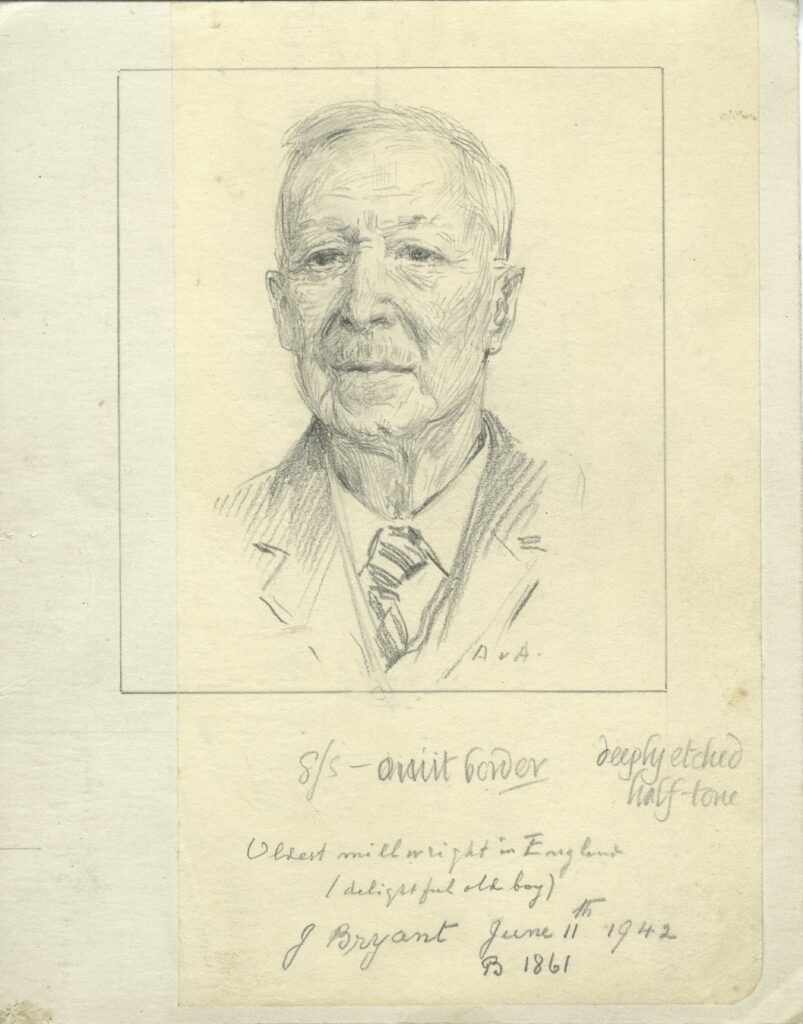 In 1936 Bryant wrote down "some of the events of my life that occurred to me on my 75th birthday of the ups and downs of the old type millwrights." These are a few of his memories:
One I shall never forget was at an old water mill worked by the tide. I was fitting it up with silk dressing machinery and elevators and I lodged in the mill house which is situated about 500 yards [away] and you had to walk along the sea wall to the mill. There was a young man apprenticed living at the house and it was his spell to work the mill when the tide was down. It was a terrible dark and stormy night and he seemed a bit nervy so he asked me to go down with him for company. As we were old chums I agreed. We took some bread and cheese and I went and got ½ gallon of porter so we could have our supper when the tide was down. We sat down on a couple of bags of bran and were having quite a pleasant time when there was a terrific crash. The whole floor of the mill seemed to heave up and the old mill shook and groaned. It put the wind up us for a time but we plucked up courage enough to lift up the large door in floor and found the tide had risen within 3″ of the joists of the floor, but we both agreed we had enough for one night, so took our old horn lantern and went home to bed. In the morning the problem was solved, the sea was full of porpoises and we came to the conclusion that a large one was chasing the fish down the channel under the mill and when he rose struck the mill floor, so we satisfied ourselves on that point. But I must admit although I had some rough experience there were times when we had quite a bit of fun.
Another time I was working for an old gentleman at his mill and I had a good mate with me. We were working from 5 in the morning till 8 at night and getting a bit fagged. We arranged to leave off ½ an hour earlier and go down to the sea front for a breath of fresh air. We lived in the mill house. The old gentleman when we told him of our intentions said "now young men, if you are not home by 9 o'clock the doors will be locked as we go to bed early". Well we had a good wash and started for the shore which was ½ mile away. We called and had a pint of porter each and had a blow of fresh air. Starting home about 5 minutes to 9, going along we heard the church clock strike and true to his word we were locked out. We had to decide quick. My chum said lets lay down in the barn as there is plenty of clean straw, but I preferred a bed, so we made a gentle attack on the back window. I had a steel rule in my pocket and they were old leaden casements so no trouble. We took our boots off and crept in, planted our boots under the sofa and went to bed. The old people never heard us. About ¼ to five in the morning we came down stairs. The old gentleman was up and he stared at us and said, "how the God's blessing did you get in here, for I locked you out last night." I told him, "you thought you did, but we were tired and went to bed early," which was quite correct.
Sketch of John Bryant by the painter Anton van Anrooy, 11 June 1942. Rex Wailes has added the note "Oldest millwright in England (delightful old boy)"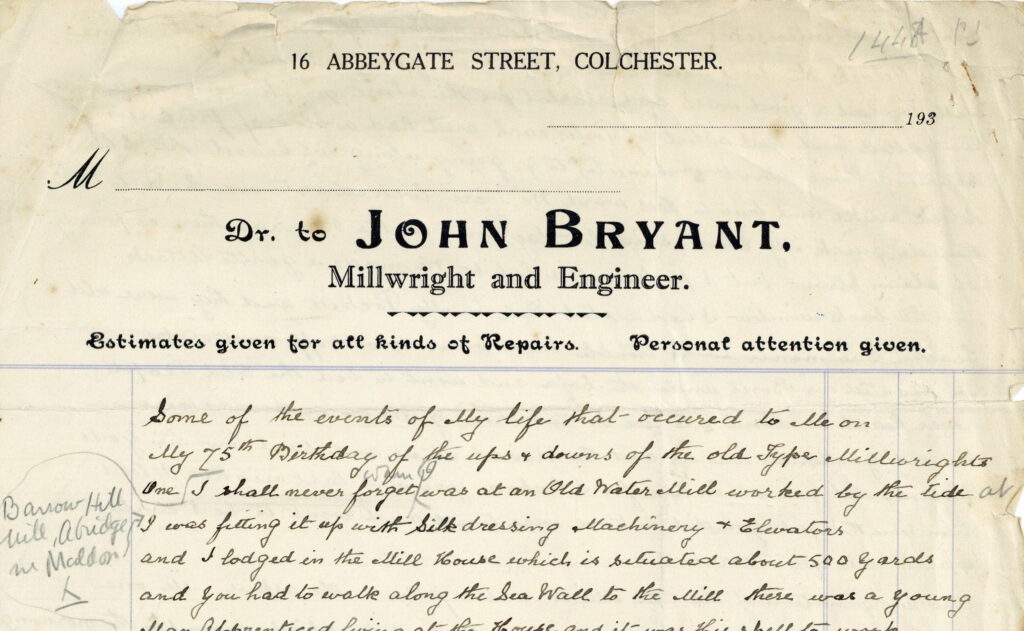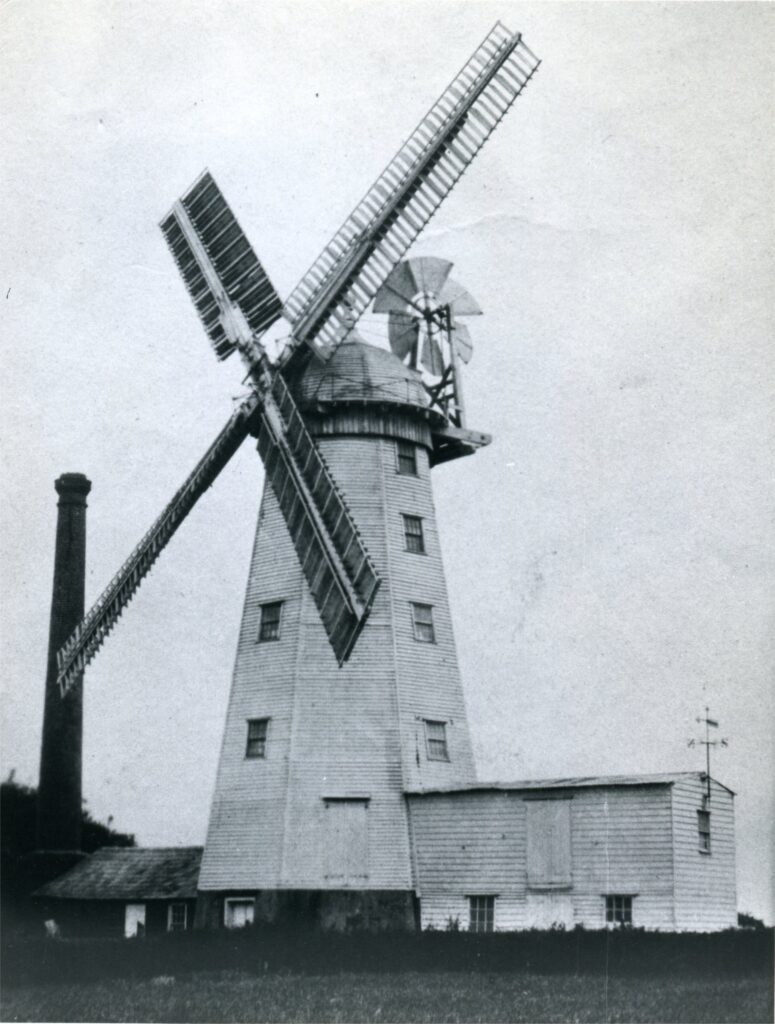 I went to fit new triangles to the sails at Gt Holland Mill near Clacton one day and I wanted a 25 stave ladder to reach the sails as they had to swing over the steam mill and granary. Being just after harvest time they could not borrow one as they were all busy thatching in that district so I climbed round the cap of the mill with all my load and climbed out on to the sails. I was busy fitting up my job when suddenly the vanes struck to, jamming my hands and one leg so I was wedged in, and a good job too as the mill started and I was whirled round. If it had not been for the Baker – he saved my life. He was looking out of the bakehouse window and saw the mill moving off, knowing I was working on the sails. He rushed out and ran up mill and dropped the brake. But when the mill stopped I was hanging on head downwards. He done nobly, he climbed out on cap to see where I was and shouted out, but he could not get any response from me as my breath was gone for about 5 minutes, then I realized my desperate position. I told him to be sure and not strike the vanes back as I should fall out but to turn the mill so as I was the right way up, and he was a brick – after I got the right way up he helped me out and I got to the ground. Then I felt bad and they rushed and got me a drop of Brandy. That night I drove home 16 miles with the reins attached to my elbows. The Boss that done all this mischief had got delirium tremens and died soon after in Ipswich Jail.
In the file there is also a poem titled "The Old Water Mill" written November 1901, lamenting the disappearance of traditional milling and damage to health believed to be caused by white bread:
Again as evening Shadows fall
Across the Old Water Mill
My thoughts recur of days ago
When Milling had its Thrill
 
We had a splendid run of work
On wholesome Flour and Meal
No thought of Faking Gods best Gift
The splendid Golden Cereal
 
But now alas all things are changed
The Mill still moves in vain
Fashion desires a pure white Loaf
No matter whom it maim
Our Teeth Our Eyes our Vital parts
Are gradually destroyed
To please the whims of Ladies Hearts
They will not be denied
 
But still we strive to carry on
With slower pace but sure
And feed the Cattle on the Germ
Which nature wants so sure
Bryant notes below the poem – This is rather crude but I was walking past the Old Mill between 8+9 Oclock at night and the Moon Shone full on the Old Mill and I went to my lodgings and scribbled it out.

John Bryant died on the 5th February 1944.