or Mr Hovis and the triumph of advertising brown bread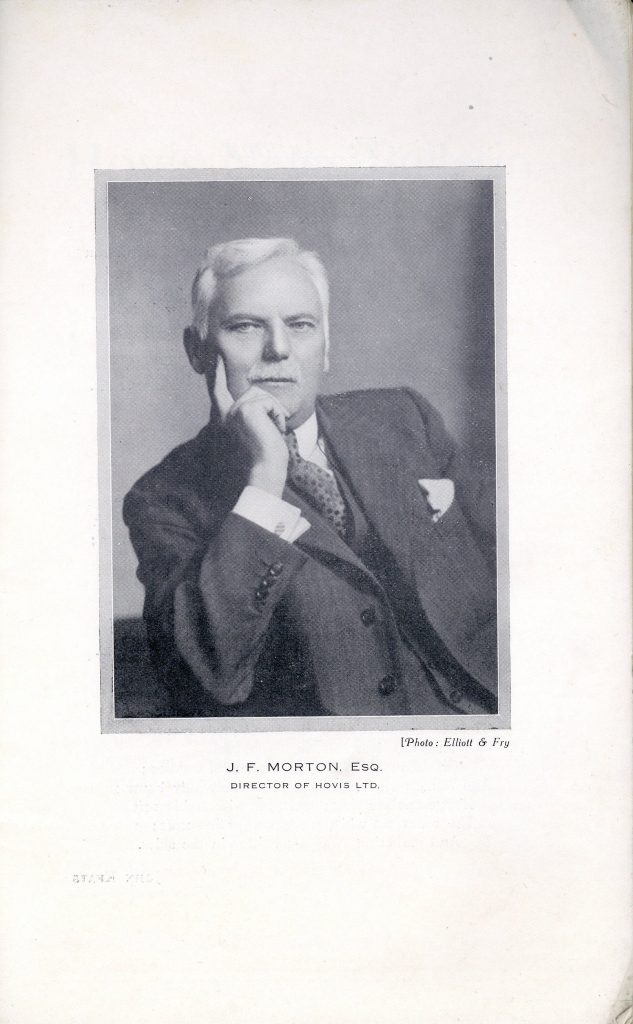 Hovis is a distinctive brand of brown bread. However, it was the advertising flair of John Figgis Morton who pioneered the advertising campaigns that made Hovis a household name. J F Morton was born in Macclesfield in 1872 and educated at the grammar school. His first job, at 14, was with Brown & Claye, a local printing company. The knowledge and experience he gained in the 'power of printed advertising' set his course for life.
In 1889, at the age of 17, John Figgis Morton joined S Fitton & Sons Flour Millers, as a £1 a week clerk. His job in the 'Germ Office' was to sell, advertise and promote 'Smith's Patent Germ flour'. Fitton's was in partnership with Richard Smith, a Staffordshire miller, who had created a unique process of removing the wheat germ, cooking it slightly, adding a bit of salt, and putting it back into the flour. This made a nutritionally very healthy brown loaf, rich in vitamins and longer lasting. However, the name 'Germ Flour' wasn't popular with bakers or their customers because 'germs' are associated with disease.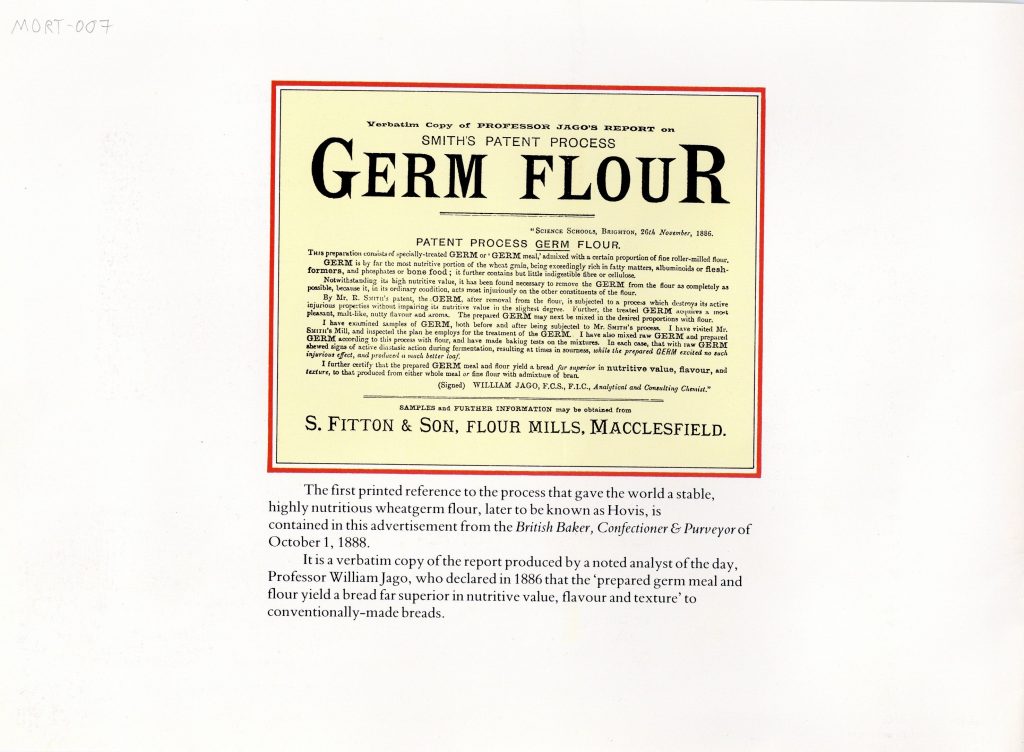 So, in 1890, J F Morton persuaded Mr Fitton to run a national newspaper competition to find a new and more memorable name for the Germ Flour. The competition was won by a student teacher, Herbert Grimes, who suggested a derivation of the Latin words Hominus Vis (Strength of Man) to create HoVis. His prize was £25. Hovis was born, the flour was patented and trademarked HòVis. In 1898, S Fitton & Sons became the Hovis Bread-Flour Company, further distinguishing Hovis as a brand name.
Morton was a 'genius in organising publicity' and persuaded Mr Fitton to invest in advertising through a Fleet Street press agency and to purchase a company printing press. Hovis became rapidly known in homes all over the country through newspaper advertising. The printing press was used to produce promotional literature for bakers about the merits of Hovis flour in making a wholesome brown loaf.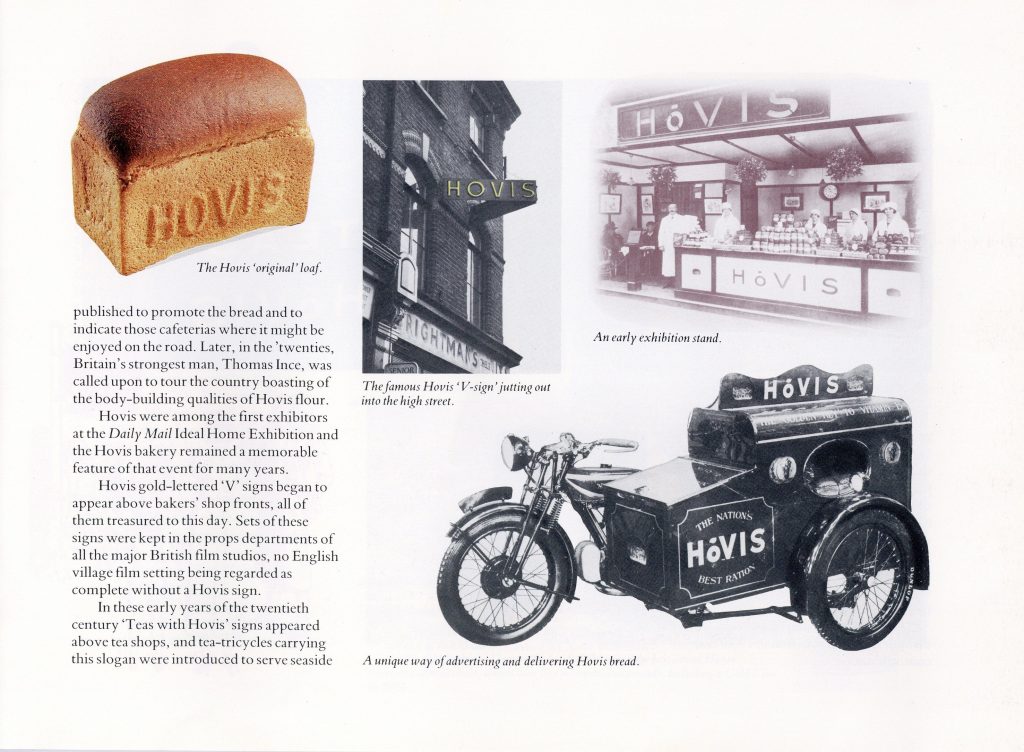 J F Morton was promoted to manage the sales staff which numbered five in 1889 but had grown to 30 salesmen and commission agents by 1905. He never stopped inventing ways to make Hovis synonymous with health and goodness. Advertising signs were attached to delivery bicycles and sign writers were sent to write Hovis above the doors of Hovis bakers. Loaf tins impressed with 'Hovis' were sold to bakers to make 'Hovis loaves' which became very popular with loyal customers. The company also held regular baking competitions and promotions for bakers and the public.
Images on the left from the Hovis Centenary publication
At 33, J F Morton became a company director and later Chairman after WWII. When production moved to a bigger mill at Trafford Park, the Macclesfield mill became the printing and publicity division which had expanded to included sign writing, tin making, basket making, and by the 1920's, a coachbuilders that made the distinctive Hovis vans. Hovis paper bags, delivery baskets and vans in brown and yellow livery all promoted the name. Hovis was painted in large letters on all the mills Hovis owned, becoming landmarks.
One of the most popular campaigns was Tea with Hovis. The company produced road atlases marking the location of Hovis bakeries and cafes. These could be identified from a distance by distinctive triangular wall signs that jutted out into the street. The atlases also included driving advice, signalling, and ideas for picnic sandwich fillings.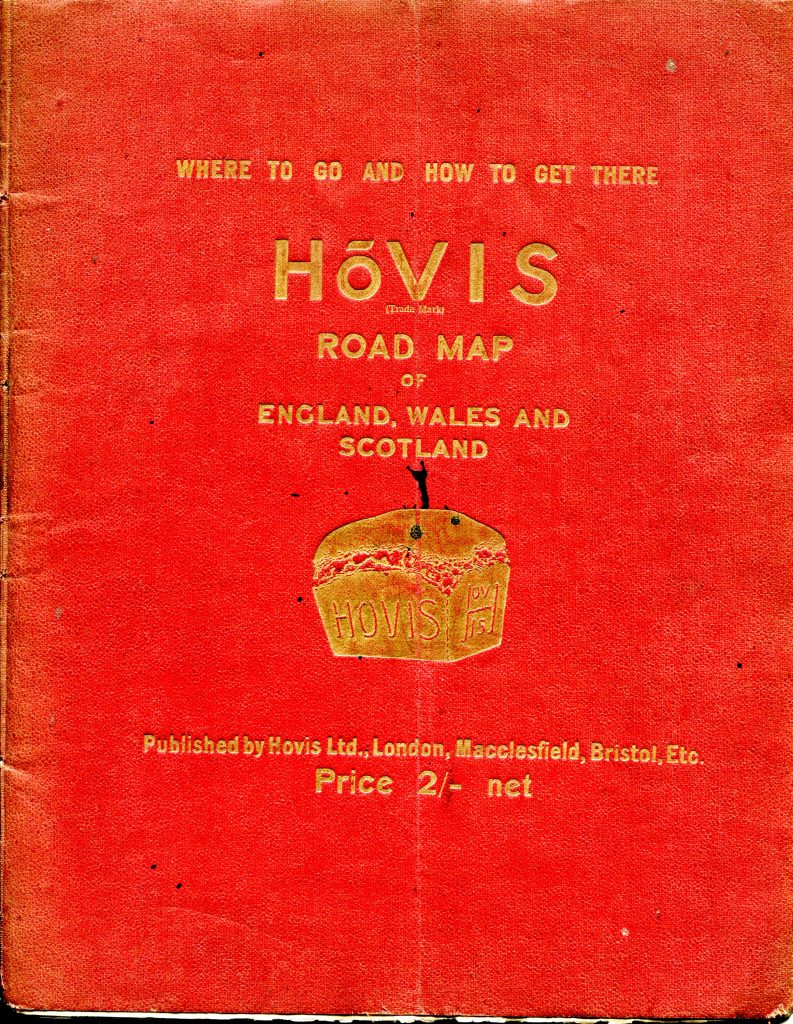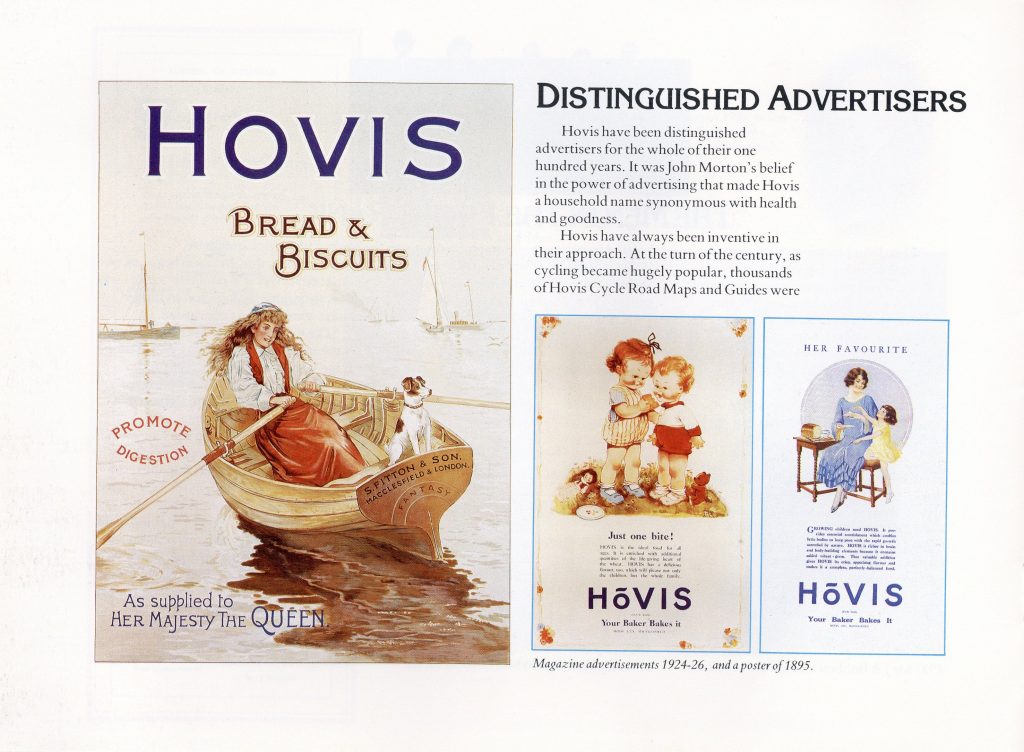 Hovis gained celebrity status in the 1920's when Thomas Ince, Britain's strongest man, was engaged to tour the country, boasting about the body building qualities of Hovis bread. Mabel Lucy Atwell and Heath Robinson were among artists of the day commissioned to illustrate advertisements. Morton also ensured that Hovis was one of the first bread companies to use television advertising: "Don't say brown, say Hovis" were popular comedy sketches using well-known actors
When J F Morton died in 1958 aged 86 he had seen Hovis grow into a multimillion pound flour and baking business over 70 years:
He had a relentless belief in Hovis. We owe everything to his vision and enthusiasm.
Source References
Robert Morton a great nephew of J F Morton told us his story and sent us a small collection of Hovis staff magazines and other literature that mentioned J F Morton.
Recollections of J F Morton by Robert Morton
Hovis Staff Magazine April 1939 – J F Morton celebrates 50 years with Hovis
Daily Mail 14 November 1958 – Obituary to J F Morton
Hovis McDougall magazine Christmas 1958 Remembering J F Morton
Hovis centenary publication
Hovis Road Atlas