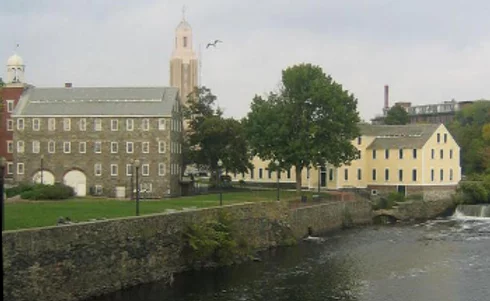 Hannah Wilkinson Slater (15-12-1774 – 02-10-1812)
Hannah Wilkinson Slater was an early American pioneer and inventor. She grew up in a Quaker family, in Pawtucket, Rhode Island; one of 8 children of Lydia and Oziel Wilkinson. Oziel was a successful businessman and was a business partner of Moses Brown – who introduced him to another business colleague called Samuel Slater, an industrialist who in 1790 having recently emigrated from Derbyshire, England, was looking for somewhere to lodge. The Wilkinsons were happy to take him in. Before long however, the 22-year-old Samuel had become close to their 15-year-old daughter Hannah – as a non-Quaker this met with some opposition from his hosts. But by 1791 he seems to have received parental consent and they married and quickly started a large family.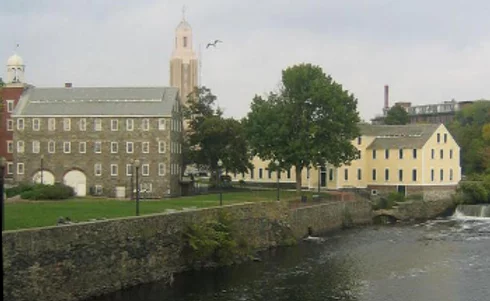 Samuel had built the first water-powered cotton mill in the United States with his business partner William Almy in 1793. This was on the banks of the Blackstone River at Pawtucket, Rhode Island. They began to build machinery for manufacturing textiles, modelled after the Arkwright spinning machines that Samuel was familiar with in England. (This site has been preserved and is known as the Slater Mill Historic Site).
Slater Mill
Hannah meanwhile was busy raising her children – she gave birth to 10, only 6 surviving childhood. She was also active in religious and welfare organisations in the Pawtucket community; founding a Sunday School and in 1809 a Female Beneficent Society, becoming Treasurer – her sister Lydia was one of its directors.
She also became interested in the work of her husband's mills. In 1793, Samuel showed Hannah some exceptionally smooth yarn spun from long staple Surinam cotton that he intended to use to produce cloth. Hannah and her sister decided to use a hand spinning wheel to spin it into thread, and the resultant thread proved to be stronger than linen thread.
Later that year, Hannah applied to the US Patent Office for a patent for her invention – which she described as a new method of producing sewing thread from cotton. The resultant patent was issued in the name of "Mrs Samuel Slater", a step forward in getting patents issued in a woman's name.
Sadly, Hannah died aged only 37, due to childbirth complications with her tenth child. She was sadly missed by all those who benefitted from her charitable works. As Samuel wrote in his memoirs "the poor lamented her, whose charities and kindness they had experienced".
Sources
About Hannah Slater – peoplepll.com
Hannah Slater Inventor- Inventricity
Findagrave.com – Hannah Wilkinson Slater
First Women Inventors – 19th Century Women