Hello and welcome to my final blog as an intern at the Mills Archive Trust… or is it? Turns out I will be sticking around just a little while longer, as I will be ensuring that all of the different aspects of the library system are ready for their overhaul onto the new system next month.
So what has caught my fancy recently? This week I have been working on categorising foreign language books – ensuring that they are assigned to the right topic – to best describe what the books pertain to. But why assign categories to these books when many people coming into the archive won't be able to understand their contents?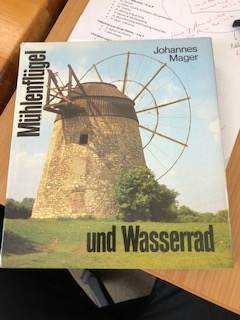 Well, I have come across so many fascinating books, which (although I couldn't read) I found extremely fascinating. Through illustrations and photographs, books which are in foreign languages can often be just as insightful as English language books, for an English speaker like me. Thus it is important to categorise all our books – in their varied languages – in order to allow the user the books relevant to their interests. For the content of this week's blog, I have chosen just three books (out of hundreds of captivating books in a myriad of languages) to try to convey to you just how useful and enjoyable they are.
To start with, take this book for instance: Mühlenflügel und Wasserrad'- which translates to 'Mill sails and water wheels'. The book is richly illustrated with photos and historical diagrams, which allow the reader to become further informed on the different types of wind and water powered mills in Germany and the Netherlands – without needing to read a single word. The book also contains an index of personal names and technical milling terms, and if you're like me, you will input those terms into google translate to find out what the German equivalent of millstone is (it's Mühlstein). There are so many opportunities with books like this, making it such a rich resource for milling information just waiting to be explored.
Now, the next book which we will be looking in this piece is 'Theatrum machinarum molarium'- a Latin title (for a Dutch book!) that translates into English as 'a theatre of millwrighting'. So no prizes for guessing what this book is about, as of course it is about millwrighting. The book is an oversized grand piece of work, containing within it many detailed diagrams detailing the construction of various different types of mills, from floating mills, to wind mills. This book would be particularly useful to people looking at mill construction – hence why the language of the book wouldn't necessarily matter – as those diagrams represent a universal language that everyone would be able to understand.
The last book we will be looking at in this piece is entitled: 'Historische Mühlen und ihre Technik'- which translates to 'Historic mills and their technology'. This is one my favourite books I have looked at so far whilst at the archive. It contains within it 46 technical drawings of individual wind and water mills almost all in colour- as you can see from the pictures provided. The beauty of this book (like so many other foreign language books in the library) is that you don't need to be able to speak the language to be able to appreciate its contents, its illustrations are beautifully designed and have the effect of engaging the reader to carefully examine each and every single diagram. This captivates the reader to keep turning the pages to examine the next diagram – and the next…
Now that I have showcased just some of the foreign language books in the library, feel free (when you have a spare few hours) to indulge yourself and come to the Mills Archive library to explore our vast array of foreign language books relating to mills – I promise you won't regret it and you might just unearth a few gems yourself!