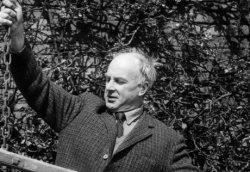 Kenneth G Farries was one of the most productive and influential authors on windmills in the 20th century.
The work of Ken Farries is probably unique in mill literature: five volumes devoted to the windmills, the millers and the millwrights of Essex, published in the 1980s, following his comprehensive study of The Windmills of Surrey and Inner London in 1966. Many molinologists treasure copies of his books as star items in their collections.
During the 1950s and 60s, Ken devoted much of his leisure time to mill recording. In the company of Denis Sanders, Ken concentrated on the derelict windmills of Essex. Meanwhile, he had embarked on researching what became the Surrey book, with Martin Mason. They finished the field work and library research by 1959 and Ken spent the next 7 years writing it up for publication.
Ken readily acknowledged his debt to his co-workers. The photographs for the Surrey book were taken by Martin T Mason, while Ken wrote the text. For the Essex research, Ken's chief assistants were Denis Sanders, Roland Smith and Ronald Hawksley, of whom Ken wrote: "His keenly critical approach has been accepted as a salutary form of shock treatment, calculated to reduce flabbiness of thought to a minimum!"
Left K G Farries demonstrating a weighing device, Frost's Mill, Halstead
---
He grew up in the shadow of Upminster Windmill, NE London and taught geography at Reigate Grammar School for thirty years. He died of a stroke before the final volume of Essex Windmills was published in 1988, and was survived by Penelope, his wife of 36 years.
Ken set high standards for future researchers. He unlocked the memories of people who had known mills in their active days, as far back as the mid-19th century. He studied the mapping of mills in scholarly detail, distinguishing reliable surveying from guesswork; recording in photos mills that are now long gone. He documented a craft, millwrighting, almost in its death throes in 1950. He showed how an erudite subject could be treated elegantly, making a good read. Rex Wailes wrote to Ken in March 1967: "Your Surrey book is the best since the 18th century" … ."I enjoy it for endless reasons, not least the style and the dry humour of the writing." A distinguished Essex County Archivist, F.G. Emmison, sent Ken a generous letter in 1981, commenting on the "superhuman task…I am overwhelmed with the standards you set yourself.. .magnificent book"
Farries (right) and Mason (centre) at the launch of 'Surrey and Inner London' in 1966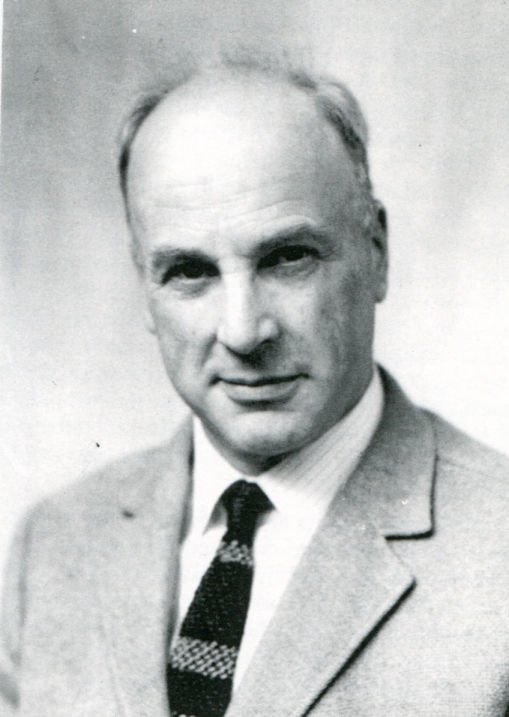 Ken Farries during his teaching days
Windmills of Surrey and Inner London (with Martin Mason) 1966
Essex windmills, millers and millwrights, vol 1: an historical review 1981
Essex windmills, millers and millwrights, vol 2: a technical review 1982
Essex windmills, millers and millwrights, vol 3: A Review by Parishes, A-E 1984
Essex windmills, millers and millwrights, vol 4: A Review by Parishes, F-R 1985
Essex windmills, millers and millwrights, vol 5: A Review by Parishes, S-Z 1988