Of the 91 counties and shires of England, Wales and Scotland, several are recognised each year celebrating the cultural heritage of that particular county. Today is Shropshire's county day, the feast day of St Milburga, abbess of Wenlock Priory. St Milburga was the daughter of Anglo-Saxon king Merewalh, who founded the abbey within his sub-kingdom of Magonsæte.
To celebrate Shropshire Day, we are pleased to share this atmospheric poem about Chipnall Mill on the Cheswardine Estate near Market Drayton by John Palmer, Methodist Minister of Fair Oak. It was recently sent to us by Stephen Palmer, a descendant of William Palmer, the last miller of the mill: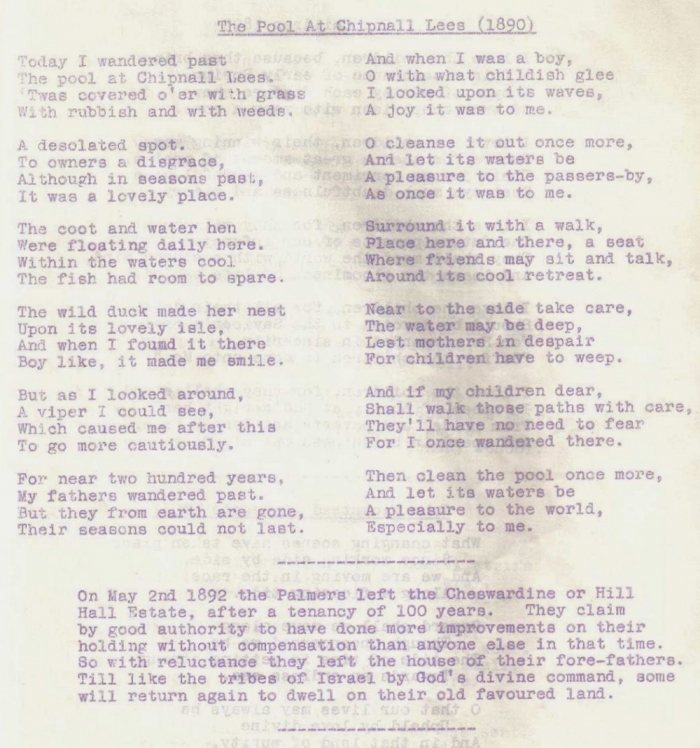 The mill was closed circa 1894 and found to be demolished by 1985. It's possible that William was the last miller, or next to last, at Chipnall as he left 1891/92. The metal waterwheel was removed for scrap during the Second World War. William Palmer was born at Heatherdale Farm, near the mill, in 1835. The Palmer family had farmed there since the beginning of the 1800s. The family had been in the Cheswardine/Lipley area since about 1700 as farmers. William married a neighbour, Hannah Harvey, in 1859. By 1869, William was miller at Chipnall Mill and the 1871 census shows William and his wife, Hannah, his 4 children, father, brother and sister at the mill. By the time he had left the mill on 2 May 1892 the Palmer family had been tenants of the Cheswardine Estate for 100 years. He moved to farm at Longford near Market Drayton, Shropshire not long after this and died after a short illness on 4 October 1898. He is buried at St Swithins Churchyard, Cheswardine and his gravestone remembers his time as miller at the mill. The poem was written by John Palmer (1844-1925) younger brother of William Palmer. John left when in his mid-teens to become a joiners apprentice at nearby Fair Oak where he went on to become a Methodist preacher and co-founder of Fair Oak Chapel, Staffordshire. The mill has long since gone, but the remains are still evident on the Coal Brook and are described in The Sleepy Meese by D H Robinson which is available to read in our library.
Other recorded millers of Chipnall Mill were William Butler around 1831; Joseph Butler around 1841; Matthew Plant around 1851; and George Bond around 1861.
The mill was also the scene of a "Murder most Foul" in 1837. Ann Wycherley of Market Drayton, stoned her 3-year-old daughter to death in the mill pond. Ann was subsequently arrested, tried and sentenced to death by hanging in 1838.
This history, poem and photographs have been sent to us by Stephen Palmer and used with his kind permission.