Recent findings at a 14,000-year-old archaeological site in Amman, Jordan have rewritten the history of bread-making by 5,000 years!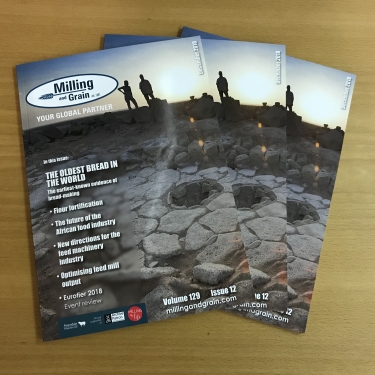 Rebecca Sherratt, Production editor, reports on the recent findings of the 'earliest-known evidence of bread-making' found in the Black Desert, Amman, Jordan, in this month's issue of Milling and Grain. You can read the full article here. There are even a couple of ancient bread recipes you might like to try your hand at!
Milling and Grain is produced by our Archive Patron Perendale Publishers. As an Archive Patron they provide significant support for the Mills Archive. We are very grateful for their assistance and interest in what we as an Archive are doing.
Each month Milling and Grain features an article by Mildred Cookson. This month she talks about 'Early international milling exhibitions'. You can read Mildred's article, and the full digital issue of the latest Milling and Grain magazine here. We have a limited supply of free issues. If you are interested in obtaining a copy, please get in touch with us.
Discover more about the history of flour milling in our From Quern to Computer pages.