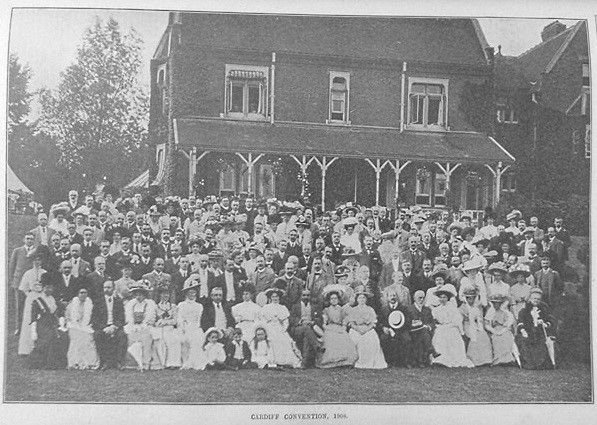 In a week which has seen the celebration of 100 years since women were first given the right to vote, I have been reflecting upon the role of women during the early days of roller milling. My research of the period has been dominated by men, the great manufacturing and milling firms were frequently named after men in partnership with male relations, for example Henry Simon Ltd.; Cranfield Brothers Ltd. and W. & H. Marriage & Sons. The 14 'Key Individual' profiles that can be found on the Modern Milling webpages are all of men. So where were the women? Where was this invisible gender during this time of change to the milling industry?
As with most periods of history, the place where women can predominantly be found are as mothers, sisters, wives and daughters to these men of industry. This relationship could be best demonstrated at the annual nabim conventions. In 1908, the convention was held in Cardiff from 23-26 June. In the report The Miller published the following month, it recorded the attendance of 89 men, 20 of whom were accompanied by their wives, along with four daughters or sisters. Whilst the men were left 'racking their brains to find solutions of many trade troubles' the women entertained themselves by going on outings ('Cardiff Convention', p.298). Over the course of two days they visited Windsor Gardens, Alexandra Palace, Roath Park and Llandaff Cathedral. The husbands only accompanied their wives in the afternoons once their business had been concluded, even if they did then have to contend with 'the man with the camera' who took the accompanying photograph, which suggests that more than 24 women were present at this convention ('Cardiff Convention', p.298). So it was that whilst present at these conventions, women played no role in the conversations about trade but were expected to purely treat it as a social event.
However, this did not mean that they did not understand the trade in which their husbands and sons were involved. Indeed, they could often find themselves thrust into responsibility for these firms in certain circumstances. The most common occurrence when this happened was in the unfortunate event of a death. Cranfield Brother's Ltd., for example, had a female Director of the Company for 47 years after their founder, J. G. Cranfield, died in 1908. His wife, Lilian Cowell Cranfield, then succeeded him as Director of the Company and remained in this position until her death in 1955.
It is unclear how directly involved Mrs. Cranfield was in the running of the company, but examples from the rest of her life suggest that she was an independent and forthright woman. In the obituary written for her husband in 1908, the only comment made about Mrs Cranfield was that she 'took great interest in developing the grounds, and entered into all the field sports followed by her husband' ('Obituary of J. G. Cranfield', p.99). She therefore appeared unafraid about entering into areas of life that were usually regarded as the domain of men. After her husband's death she did not start living a quiet life either. She was involved in works of philanthropy, building the Burstall Memorial Hall in memory of her husband, founding Cranfield Court homes for the elderly and building alms-houses in Foundation Street, Ipswich. There are also records of a Mrs L. C. Cranfield travelling to Rio de Janeiro in 1936 and Cape Town in 1938. This all suggests that Mrs Cranfield was an adventurous woman generous with her time and money. As such, it is probable that she played an active role as Director of the Company and that opening Cranfield's sports ground and attending the Jubilee Celebration Dinner in 1934 was not all she did.
Another 'wife' who maintained an interest in her husband's firm after his death was Mrs. Emily Simon, wife of Henry Simon. Her husband, the great roller milling engineer, died in 1899. The running of Henry Simon Ltd. was taken over by senior members of the firm, but the Simon family remained involved with Ernest and Harry Simon both joining their father's firm. Mrs. Simon was still bringing up a family at the time of her husband's death, including three daughters. It was partly due to the concern about the education of these daughters that Mr. and Mrs. Simon had helped found Withington Girls School in 1890. After her husband's death Emily Simon continued to support this school and ensure that an equal standard of education was available for girls as it was for boys. Upon her death in 1920 she bequeathed the playing fields to the school and founded a scholarship in her name.
Six years after the death of Emily Simon, the firm of Henry Simon Ltd. opened a new manufacturing works at Cheadle Heath. Ernest Simon was chairman of the firm at the time and it was his wife that officially opened the works. This Mrs Simon clearly believed as strongly in female education as her mother-in-law had done and in her speech 'she referred to the increasingly important part which women were playing in the modern business, and added that, though up to the present the engineering trade to a large extent had kept women out, they would have to be very much alive if they were to maintain immunity' ('Official Opening', p.432). So it was that both Mrs Simons from two different generations championed the role of women and encouraged the breaking down of barriers into occupations that had previously been regarded as solely male.
The content of this blog has reflected the fact that during my research of roller milling history, I have not discovered one extraordinary woman breaking down barriers and designing key pieces of equipment to revolutionise the trade. Women at the time were very much in the periphery, however, this did not mean that they were invisible. They could hold key positions within milling firms and their positions as wives to rich and respected men meant they had the resources to support important causes that could benefit many other individuals. Women of a lower status had to wait until the First World War and the call to replace men working in flour mills for their abilities to be truly appreciated. But their gender was certainly not 'invisible' before this period, just somewhat obscured.
Sources:
'Obituary of J. G. Cranfield', The Miller, April 6, 1908, p.99.
'Official Opening of the New Works of Messrs. Henry Simon Ltd., Manchester', The Miller, August 2, 1926, p.432.
'The National Association of British and Irish Millers Annual Convention held at Cardiff', The Miller, July 6, 1908, pp.288-300.