We're adding to our extensive collections about traditional wind and water mills to tell the story of the most recent phase of flour milling, roller flour mills.
Changes in technology in the 19th century including steam power and the development of the roller mill led to a revolution in flour milling in which rural wind and watermills were replaced by big industrial mills. You can read more about it in our history of flour milling, From quern to computer.
To capture this history the Mills Archive is collecting records of roller flour mills. Here are some of the treasures we've already received.
THE CORNWELL COLLECTION
In the Cornwell Family Collection is the scrapbook of William Cornwell (1851-1933), managing director for many years at Sun Flour Mills, Bromley-by-Bow (shown in above image).
Milling flow charts show how grain moved through the roller mills and other machines in the mill. They provide important evidence of the development of milling technology. Tucked into the scrapbook was the chart for Sun Flour Mills:
We also have the certificate given to Mr Cornwell on retirement: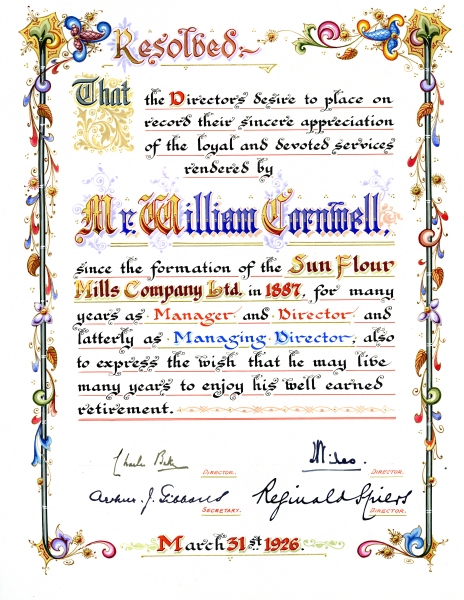 The family later ran the William King Mill, Uxbridge for many years.
GELDER AND KITCHEN
The firm of Gelder and Kitchen in Hull were leading flour mill architects for many years. We recently rescued a large number of mill files from their basements in Hull,
The files are now being appraised, cleaned and listed. Here we are brushing decades of grime off the contents in the lovely surroundings of Watlington House garden!
Our most interesting find so far are the drawings for Clarence Mills, Hull, built 1896:
MICHAEL FRENCH COLLECTION
An interesting glimpse of the challenges faced by traditional millers when roller mills were just beginning to take over can be seen in this family collection. The story was featured in a recent edition of the 'Who do you think you are' magazine.
CRANFIELD'S MILL
This set of photos documenting the history of Cranfield's Mill, Ipswich was a recent discovery. We didn't know we had them until we came across the box in an uncatalogued collection.
HELP US CAPTURE THE STORY
For a list of all our current roller mill archive collections, see our catalogue, or to search by mill see the roller flour mills listed in our mill database.
We're adding to these lists all the time. If you know of roller flour mill material in need of rescue, or have information or images you'd like to send, please get in touch!