Hello everyone! As some of you may already know, National Mills Weekend is coming up. It is on the 9th and 10th of May and is an annual festival celebrating the UK's milling heritage. Watermills and windmills all over the country that aren't usually open to the public will be opening their doors to visitors.
The National Mills Weekend has been running for about 20 years and over 300 mills will be open to the public. Due to the hard work and dedication of restoration and preservation groups, donations and volunteers, there are now over 100 working mills capable of producing natural stoneground flour.
The SPAB Windmill Committee was formed in 1931 to draw attention to the amazing staying power of mills across the country that are still efficiently doing the same job today as they did over 300 years ago. I spoke to Mildred, who used to be part of the team of people at the SPAB who plan for the National Mills Weekend all year round to ensure it is a successful and innovative experience for everyone who takes part. Mildred told me that the SPAB provides a press pack for the mills taking part. They provide posters that the mills can create themselves and also provide a theme. The theme this year is Mills in Art and there will be a competition for adults and children to enter their own mill-inspired artwork or photographs and win a prize and the chance to have your artwork featured on greeting cards.
Mildred told me that the Mills Weekend is a great opportunity to promote awareness of mills because it provides local and national coverage. The SPAB has regional coordinators who pull together mills spanning across the entire country from Cornwall to Shetland and promote their events in magazines and newspapers.
There is a handy list of windmills that will be open for the weekend: www.nationalmillsweekend.co.uk
While looking through the list of mills I noticed some familiar names. Wicken Windmill in Cambridgeshire, one of our own Heritage Partners, will be open. It is a 'smock' windmill which means that it has a sloping, horizontal weatherboard. The windmill was built in 1813 and after some major deterioration it was restored in 1987 by the Wicken Windmill Preservation Group consisting of amateur millwrights and supporters. Using grants from the English Heritage and East Cambridgeshire District Council and generous donations, the wooden smock tower was strengthened and reclad followed by the replacement sails which were fitted in 1996 with a new set of shutters. There is a beautiful pictorial diary showing the progress of the restoration process at www.wicken-windmill.com/page9.htm
Another Heritage Partner I noticed on the list was the Windmill Hill Windmill in Sussex. It is the second tallest and longest post mill in the UK. It was erected in 1814 but by the start of WW1 it had ceased working. In 1996 a charitable trust was formed to take over the windmill. Restoration began in 2003 and was completed by 2006. The website is really fascinating because there is a live webcam showing the activity of the mill: http://www.windmillhillwindmill.org/weather-station/. The site contains graphs and charts on the temperature, weather conditions, wind speed and humidity. This information is sent to an Automatic Turning Device (ATD) from which control signals are sent commanding an electric motor drive to move the mill to the correct and safest position facing into the wind. Visitors are able to access the mill body by climbing a long ladder at the back of the windmill accompanied by a guide, but don't worry, the visitor centre is completely accessible by wheelchair.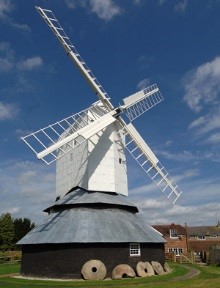 Each mill will be putting on their own events so you'll have to go onto their websites to see what they have in store! This is a chance to visit mills you might not get the chance to throughout the year and it will be a fun weekend for families and friends to get together and see how many mills you can explore!
(I found both photos on the National Mills Weekend Website – www.nationalmillsweekend.co.uk.)