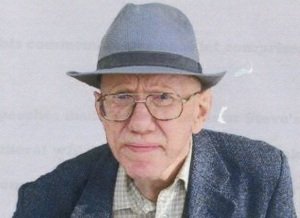 Stephen was born in Hampstead, North London to Charles Stephen Buckland Buckland, an assistant keeper at the Public Records Office, and Jessie Hatch Flemming, a historian and daughter of eminent ophthalmic surgeon Percy Flemming. He completed five A-levels (mostly science) at University College School, Hampstead but never completed a university course, having embarked on, and dropped out of, French at Birbeck College, and African History at Queen Mary College, which involved a year in Ghana. His time in Ghana is recorded in some of his – recently catalogued – mill research notebooks where he visited many mill and antiquity sites. He settled in various places including Bede House, Bermondsey and finally 59 Wooler Street, Camberwell from where his bequeathed collection was retrieved.
Stephen was an eccentric character and suffered from bouts of depression, and low self-esteem probably brought on by his mother's favouritism for her older son, Francis, seemingly unable to move on from his death in December 1970 in Rabaul, Papua New Guinea, aged 37. Stephen was self-critical about his life, and underestimated himself enormously.
Despite all this, Stephen was a remarkable person. He probably derived from his parents his devotion to scholarly research and to precision in thought and expression. He was most at home in the great libraries of London, including the old British Museum Reading Room and the Manuscripts Department (he deplored the move to the new British Library at St Pancras) from which latterly he was banned in the 2000s for some obscure reason, the Guildhall Library, the Westminster Reference Library and the Science Museum Library. He would spend many hours absorbed in detailed study of the books and pictures, taking copious notes. Every branch of knowledge was of potential interest to him and he would go off at a tangent to a reference book about an artist or writer; potted biographies, bibliographies, family trees resulted, for he recorded what he discovered. Research was his lifeblood. One result of his insatiable passion for knowledge was the numerous publications on mills and engineers. There are also many unpublished manuscripts, which are held at The Mills Archive, Reading, and have yet to be catalogued fully and made public.
When his interest in mills began is hard to say, but it was certainly from around the age of 14, when his first notebook started in 1949. The first windmill he visited was at Little Laver, Essex and from there he set off on his passion for mills. Stephen played to his strengths and produced seven valuable articles for the Mills Research Group, but he never pulled together his disparate notes and well furnished thoughts on the smock mill in England or the early post mill, both subjects dear to his heart. His chosen field was mill studies, with a second string in steam engines, while his relaxation was the study of paintings, partly for the mills that so often feature in Dutch and Flemish landscapes. His other mill subjects he paid particular interest in were those of French, Portuguese, and London mills, particularly Brixton, Wimbledon Common and Blackheath latterly. Stephen was also an accomplished photographer, recording the mills he visited in detail, and, for many years, handling his own development and printing. He was also an accomplished draughtsman and produced a great number of drawings – of which he was justifiably proud – often copied from historical manuscripts and books. Two books were published posthumously containing some of his excellent drawings, and a biography on Stephen, and are available to purchase at The Mills Archive bookshop.
Stephen lived through his books, his pencil and his typewriter. The Mills Archive holds 383 research notebooks and a number of files in which he must have recorded his comments and notes on all the reading matter that ever passed before his eyes. He lived surrounded by books and paper, and a great many friends. He was a much-loved person.
Sadly cancer attacked him – with remissions – but the last stages were quick. He remained lucid almost to the very end. His death was not lonely and his friends united in celebrating what Stephen had given them as a companion.
---
Harverson, Michael (ed.), Mill Drawings by Stephen Buckland (Mills Archive, 2006)
Commemorative booklet in the Stephen Buckland Collection
Related content