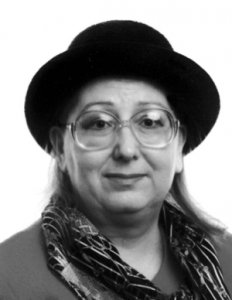 The following biography was written by Eve Logan's husband, Bari M Logan, in 2002:
Evelyn Logan (née Elkin) was born in Lenton, a suburb of the city of Nottingham, on the 2nd October 1950. Her father, Robert Elkin, was a coal miner haulage-man who worked at the local pits of Wollaton, Clifton and Cinderhill, whilst her mother was a housewife. She had two elder brothers, Barry and Robert, and a third much younger (adopted) brother, Brett.

Evelyn was educated at Forest Fields Grammar School, Nottingham, and her educational strengths were English Literature, English Language and French. She was a prolific reader and had a particular interest in historical books and poetry; it was the former interest that probably prompted her, over the last ten years of her life, to research her own (Elkin) family history, for which she gained recognition as an expert genealogist.

She also greatly enjoyed English traditional folk music, the earthy rural kind, old farming tales put into song, and it was through this interest that she met her husband-to-be, Bari, one evening at a Nottingham folk club. Bari was the eldest son of Fred Logan, a gun maker (Royal Ordnance, Nottingham), and Doris Logan (née Warwick), who was a fine-lace worker.

Evelyn and Bari married on the 26th September 1970 at St Catharine's Church, St Ann's, Nottingham and they lived in an old Victorian terraced house, in Sneinton below the restored windmill, once the home of the famous mathematician George Green.

At this time, Evelyn and Bari both worked at the new Queen's Medical School at the University of Nottingham, and were two of the original staff employed at its inception. Evelyn was an office administrator in the Department of Community Medicine and Bari an anatomical preparator in the Department of Human Morphology. In 1977, Evelyn and Bari moved to Raynes Park, South Wimbledon in London, when Bari took up the post of Prosector to the Royal College of Surgeons of England. Evelyn took up an administration post with the Family Practitioner Committee for Kensington, Chelsea and Westminster Health Authority, and over the next few years quickly rose through the ranks to become the Deputy Registrar. On the 16th August 1985 Evelyn became a housewife on the birth of her son Robert Charles Alexander Logan at St.George's Hospital Medical School, Tooting, London.

In 1987, following a joint decision to live in the countryside, the family moved to Histon, Cambridgeshire, and Bari took up a new post of Prosector to the Department of Anatomy of the University of Cambridge. Evelyn had intended to return to work when Robert reached full school age, but in 1991 fate struck and she developed her first major illness, a cancer which required major surgical intervention and several years of ongoing treatment. This she took in her stride, never complaining, and fortunately she managed to regain her health and she was deemed cured of this particular cancer.

As a main hobby she began to research her family history, and in October 2000 she privately produced a 350-page book (limited to 60 copies) on the subject, The Elkin family history. This major work traced her family tree back to 1532 and a line of Elkins who were essentially farmers and water-millers, then wind- millers, in the valley washlands of the South Derbyshire and Staffordshire border regions. Evelyn also wrote several historical articles for the popular Family tree magazine, and also poetry, which was published in several books of 'Collected verse'.

Whilst researching her family history Evelyn accumulated a great deal of information about the watermills and windmills of the Midland counties, in particular the names of past mill owners and occupants. This led to her putting together a Midland millers index archive, and she received many enquiries nationally and internationally from researching family historians.

In February 2000 fate struck again for a second time; Evelyn had developed a brain tumour, totally unrelated to the first illness and pathologically of the worst kind. As a consequence, despite surgery and radiotherapy treatment, she was given only one year to live. This she did to the full, again showing her typical, brave, full-of-life attitude, without complaint or self pity and always putting others before herself by quickly offering a helping hand to those she thought needed it.

Sadly, however, during 2000, as her new illness progressed and she became partially blind, paperwork became too much for her and therefore she decided to donate her Midland millers index, over 30 bulging lever arch files, to friends Tony and Mary Yoward of Slipper Mill, Hampshire, who had already put together a millers index for all the other UK counties. The addition, therefore, of Evelyn's index to theirs, completed the UK county set, and this combined archive now forms the major source of information in the UK for mill research historians.

During the morning of the 31st December 2000, Evelyn was admitted to the Arthur Rank Hospice, Cambridge, where she died peacefully at 17:00 at the early age of 50 years. In 2002, the Cambridge University Heraldic and Genealogical Society, of which Evelyn was an active committee member for a number of years, decided to honour her name in three very kind and thoughtful ways. First, they established an annual 'Eve Logan Memorial Lecture'. Second, the Society established an annual prize competition, 'The Eve Logan Award', for schoolchildren to write an article on the subject of family history. Third, the Society has published a book which Evelyn researched and produced, entitled Marriage indexes of the Cambridge colleges, the sales proceeds from which should help to bolster the funds of the Society.

Evelyn was a devoted wife to Bari for 30 years and a very loving mother to Robert for 15 years; she was a great character who was also a good honest and generous friend to many. She will be sadly missed, but at least through her research on Elkin family history and her millers index archive, along with the various honours awarded to her name by the Cambridge Heraldic and Genealogical Society, her charitable kindness will live on for a little longer.